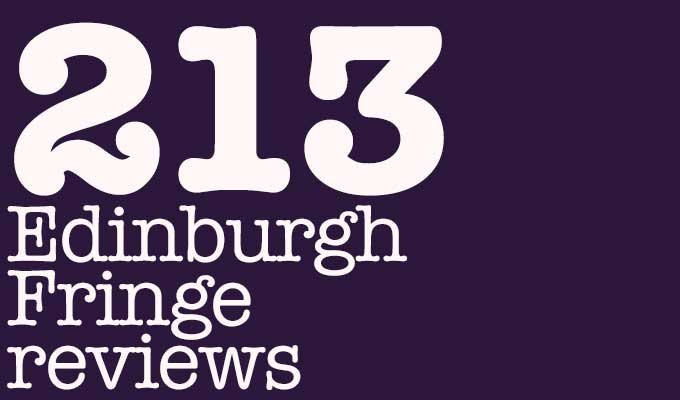 Edinburgh Fringe comedy reviews 2018

All our Edinburgh Fringe 2018 comedy reviews in one place


Ciaran Dowd: Don Rodolfo

Ahir Shah: Duffer
Dan Nightingale: Sex, Drugs And My Nanna's Bungalow
David O'Doherty: You Have to Laugh
Garrett Millerick: Sunflower
Jen Brister: Meaningless
John-Luke Roberts: All I Wanna Do Is [FX: GUNSHOTS] With A [FX: GUN RELOADING] And A [FX: CASH REGISTER] And Perform Some Comedy!
Mat Ewins: What Sorry? My Mistake! The Doors Are Not Open; The Show Has Been Cancelled. Do Not Have Your Tickets Ready!
Matt Forde: Brexit Through the Gift Shop
Pierre Novellie: See Novellie, Hear Novellie, Speak Novellie
Sarah Keyworth: Dark Horse
Sean McLoughlin: Hail Mary

Adam Rowe: Undeniable
Allan Havey Stands Up
Alex Edelman: Just For Us *
Alfie Brown: Lunatic
Alistair Barrie: The InternationAL
Anthony Jeselnik: Funny Games
Ari Shaffir: Jew
Beetlemania: Kafta For Kids!
Benet Brandreth: A Hero for Our Time
Bowjangles: Excalibow
Chris Washington: You Beauty!
Demi Lardner: I Love Skeleton*
Do You Think That's Wise? The Life And Times Of John Le Mesurier
Ed Night: An Aesthetic
Felicity Ward: Busting A Nut
Fin Taylor: When Harassy Met Sally
Glenn Moore: Glenn Glenn Glenn, How Do You Like It, How Do You Like It
Ian Smith: Craft
Ismo: Words Apart
Ivo Graham: Motion Sickness
Jamali Maddix: Vape Lord
Jimeoin: Result!
John Hastings Float Like A Butterfly...
Jon Harvey: TreasuRETROve
Kieran Hodgson: '75
Kiri Pritchard-McLean: Victim, Complex
Larry Dean: Bampot
Laura Davis: Ghost Machine
Lola and Jo: Focus Groupies
Look, It's Tom Little, Alright?
Lou Sanders: Shame Pig
Lucy Pearman: Fruit Loop
Mark Thomas – Check Up: Our NHS at 70 *
Mark Watson: The Infinite Show
Max and Ivan's Prom Night
Moon
Mr Thing
Myq Kaplan: All Killing Aside
Natalie Palamides: Nate
Norris & Parker: Burn The Witch
Paul Sinha: The Two Ages Of Man
Richard Todd: We Need The Eggs
Roisin And Chiara: Back To Back
Rose Matafeo: Horndog
Rosie Jones: Fifteen Minutes
Sam Campbell: The Trough *
Sheeps: Live and Loud Selfie Sex Harry Potter
Short & Curly: Young At Start
Simon Evans: Genius 2:0
Terry Alderton: The Musical
Tilda Swinton Answers An Ad On Craigslist
Tim Key: Megadate *
Tom Houghton: The Honourable
Tom Neenan: It's Always Infinity
William Andrews: Willy
Willis & Vere: A Serious Play About World War II
Zoe Lyons: Entry Level Human


Adam Hess: Seahorse
Adam Riches Is The Guy Who...
Alex Hylton: Everybody's Different And I'm The Same
Alex Kealy: A Kealy's Heel
Alice Fraser: Ethos
Andrew Maxwell: Shake A Leg
Arthur Smith: Syd
Bread and Geller: Prime Time
Brett Goldstein: What Is Love Baby Don't Hurt Me
Chris McGlade: Northern Monkey
Christopher Macarthur-Boyd: Home Sweet Home
Conor Drum:... If
Damian Clark: Extra Show
Darren Harriott: Visceral
The Delightful Sausage: Regeneration Game
Emma Sidi: Faces Of Grace
Eshaan Akbar: Prophet Like It's Hot
The Free Association: Jacuzii
Garry Starr Performs Everything *
Grant Busé: The Birds and The Beats
Geoff Norcott: Traditionalism
The Half
Harriet Kemsley: Slutty Joan
Harry And Chris Save The World
Henry Paker: Man Alive
Holt and Talbot: Mansplaining Feminism
I Spy With My Little Eye Something Beginning With Why Have You Been Sleeping With My Wife?: A Play by Christopher Bliss
Imran Yusuf: Saint, Sinner, Sufi
Jamie MacDonald: Blinkered
Jake Lambert: Little Lost Lad
Jim Tavaré: From Deadpan to Bedpan
Justin Moorhouse: Northern Joker
Kate Berlant: CommuniKate
Laura Lexx: Trying
Lauren Pattison: Peachy
Luisa Omielan: Politics For Bitches
Maisie Adam: Vague
Matt Price: Last Night a Weegie Saved My Life
Matt Winning: Climate Strange
Matthew Highton: Insufficient Memory
Micky Overman: Role Model
Murray Hill: About To Break
Nick Revell: BrokenDreamCatcher
Nina Conti is Monkey
Owen Roberts: I Let A Six-Year-Old Write My Show
Phil Ellis Is Ready For The Big Time
The Pin: Backstage
Rachel Fairburn: The Wolf At The Door
Rahul Kohli: All My Heroes Are Dead, In Jail Or Touched Up Your Gran
Rhys Nicholson: Seminal *
Rik Carranza: Still A Fan
Robin Morgan: Honeymoon
Rory O'Keeffe: The 37th Question
Rose Matafeo: Horndog *
Sara Barron: For Worse
Scott Bennett: Leap Year
Sid Singh: American Bot
Steen Raskopoulos: Stay *
Steve Day: Adventures in Dementia
Stuart Goldsmith: End Of
Tania Edwards: Not My Dog
Tape Face Show
Tom Walker: Honk Honk Honk Honk Honk *
Tony Law: A Lost Show
The Travelling Sisters: Toupé
Trevor Lock Experience
Two Little Dickheads
Viggo Venn: Pepito *
Wolf

Aatif Nawaz: Instant GrAATIFication
Ada Campe And The Psychic Duck
Adam Larter: Boogie Knights
African In New York – Almost Famous by Njambi McGrath
Alice Snedden: Self Titled
Alistair Williams: Great White Male
Anuvab Pal: Empire
Athena Kugblenu: Follow The Leader
Ballad of Sarah Callaghan
Ben Pope: Baby Sasquatch
Benny
Bethany Black: Unwinnable
Camels
Cassie Atkinson: Swan Songs
Catherine Bohart: Immaculate
Chris Forbes: Prophecy
Christian Finnegan: My Goodness
The Crooners
Dave Green: Melt
Douglas Walker Presents: Of Christmas Past
Ed Gamble: Blizzard
Elf Lyons: ChiffChaff
Eli Matthewson: The Year Of Magical F*cking
Frank Foucault: Shoes
George Rigden: George-ous
Go Slay Dragons!
Heidi Regan: Heidi vs Sharks
Jack Docherty: Miekelson and McGlashan – Serious Men
Jayde Adams: The Divine Ms Jayde
Jim Campbell: Trampoline
Jordan Brookes: Bleed
Ken Cheng: Best Dad Ever
Lead Pencil
Lloyd Langford: Why the Big Face?
Matt Rees: Happy Hour
Michael Clarke: Felt
Mr Swallow And The Vanishing Elephant
Naomi McDonald: Stardumb
Nathaniel Metcalfe: Chameleon, Comedian, Corinthian and Caricature
Nick Hall: Spencer
Olga Koch: Fight
Raymond & Mr Timpins Revue: Ham
Richard Hanrahan Is Doing This
Rob Kemp's Wheel Of Shows
Rob Oldham: Worm's Lament
Rosco McClelland: 29
Sarah Johnson: Mum's Going To Ibiza
Sindhu Vee: Sandhog
Sisters: On Demand
Tamar Broadbent: Best Life
Tessa Coates: Witch Hunt
Unbecoming Ramon Rivas
Zach & Viggo and Thumpasaurus: Where Does The Love Go?


#1 Comedy Great Fun Best Show Jez Watts
Andy Storey: Awkward
Avocado: Definitely Maybe Not
Brennan Reece: Evermore
Brian Gittins: Don't Feed The Monkey Man
Briony Redman: Sketch Artist
Graham Dickson: Timber
Helen Lederer: I Might As Well Say It
It's All My Mother's Fault
Jack Evans: Work
James Meehan: Gaz
Jeremy Nicholas: After Dinner Stories From My Disastrous Broadcasting Career
Kwame Asante: Teenage Heartblob
Luca Cupani: God Digger

Alcohol Is Good for You – Sam Kissajukian
Andrew Lawrence: Clean
Claire Ford: Unboxed
Claire Sullivan: I Wish I Owned A Hotel For Dogs
Jake Howie: Read My Lips
Janeane Garofalo: Put A Pin In That
Oleg Denisov: Doublethink
Roman Fraden: Back In The Closet
Tom Lucy: Reluctant Millennial
Tony Slattery's Crimes Against Improv
Yianni Agisilaou: I, Human


Nathan Cassidy: If I Caused the Financial Crash of 2008
The Piece
One-offs:
BBC New Comedy Award final 2018
Chortle Student Comedy Award final 2018
So You Think You're Funny? 2018 Final
* =reviewed before Edinburgh
Published: 27 Aug 2018
What do you think?