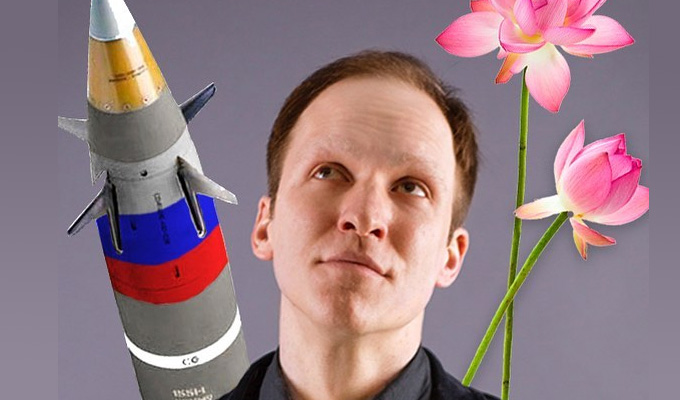 Oleg Denisov: Doublethink
Any comedian would have his work cut out entertaining eight people in the Tron's basement at midnight, and Oleg Denisov's well-informed, highbrow stand-up about Russian politics probably isn't the tonic they need.
Being a dissident comic in Moscow takes more balls than being a British satirist firing off Boris Johnson jokes to Newsjack, but this highly intelligent comic's show is more an essay in political philosophy than laugh-out-loud comedy.
It's structured around four chapters based on doublethink slogans from George Orwell's 1984, such as 'war is peace', which he has scrawled in biro on pieces of A4 and scrappily propped up on stage. All a bit unnecessary.
He likes to show off his superior knowledge, and is sometimes wilfully obtuse. 'In what comedy show is Voltairian a punchline?' he says after one gag. But there's probably a good reason not to lean a joke entirely on a word few know the meaning of. 'Bear with me on this…' he urges before embarking on another long, circuitous set-up.
I wouldn't like to advocate for dumbing-down, but Denisov's jokes rarely match the erudition of the subject matter, reaching a low when a bit about ballot-box fraud culminates in an erection/election pun. He says he can't do wordplay in his second language – which is entirely understandable – so maybe he shouldn't try so hard.
Yet whatever the style of punchline, time and again he leaves gaps after some long treatise ends, where he thinks laugh should be. But none are forthcoming, because the lines are limp or forced, tacked on rather than naturally occurring.
For all the intellectualism, Denisov is often best at talking about people rather than ideas. There's a colourful portrait fo some lower member of the kleptocracy who Denisov worked for, a man of such tacky nouveau riche taste that he called his dogs Dolce and Gabbana. And while his suggestion that all old people are racist is getting hack – and hypocritically prejudicial – the routine is illustrated by an intense portrayal of his antisemitic grandfather. However, this routine, like so many others, goes on way too long and becomes irritating.
There are flashes of more accessible material, such as tackling many a comic's pet peeve – the professionally offended - with a lovely analogy, and some of the more personal stories are engaging. But the show is defined by intellectual grandstanding with weak payoffs.
Review date: 16 Aug 2018
Reviewed by: Steve Bennett
Reviewed at: Just The Tonic at The Tron
Recent Reviews
What do you think?