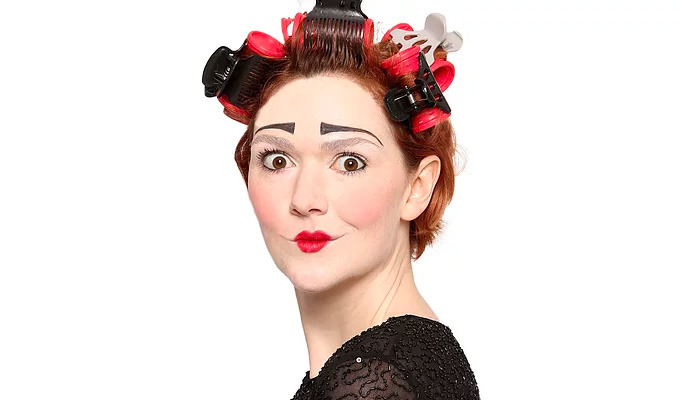 Elf Lyons: ChiffChaff
Kamal Ahmed never explained economics this way, which is a shame. BBC News could maybe do with an expressive mime conveying the meaning of quantitive easing or the use of two sex dolls to represent influential theorists Milton Friedman and John Maynard Keynes.
But then Elf Lyons is no economist – although her father is. A respected fiscal strategist who was the former chief economic advisor to Boris Johnson when he was mayor of London, no less.
Such is Gerard Lyons' love of the subject that he tried to drill it into his daughter at every opportunity, instilling into her ideas such as cost-benefit analysis and capitalist mantras such as 'failure is not an option' from an early age.
Clearly she has not taken it to heart. As a struggling Fringe performer, she's selling a weird product to a market that might not even exist. Expression, not profit, is her driving force.
However, that means she's at the sharp end of some harsh economic realities, from terrifyingly unaffordable housing to taking underpaid jobs to make ends meet, since effort does not match reward in her chosen path. Being nominated for the Edinburgh Comedy Award last year is clearly not an open door to riches.
ChiffChaff – named for no other reason than to be pleasing on the tongue - ostensibly aims to explain the financial forces at play on us all. But it's also clearly an exploration of whether Lyons is living up to her father's expectations, as she would hope to do, or disappointing him with her unlucrative clowning.
I say 'clearly', but Lyons is wilfully tangential in her approach to anything. Even when revealing a little about her real life, she doesn't do so quite as herself, instead adopting a naive, Audrey Hepburn-style baby-doll voice that eventually becomes a bind.
The weird sketches are boom and bust; for every playfully silly image, there's something that tries too hard for surrealism. She's taken a social awkwardness and amplified it into a stage awkwardness, delivering with spirit but never slickness, and inviting the audience to go with it – or not.
And yet for all the wacky absurdity, the show is built on that most mainstream of premises: rewriting the lyrics of popular songs. Thus Lyons exposes the injustices of tax havens with a new take on If I Were A Rich Man – complete with her gangly idea of a Yiddish folk dance – or fails to explain game theory to the strains of The Phantom Of The Opera.
The interest rate in her shenanigans definitely fluctuates, and there are safer investments elsewhere on the Fringe. But the implicit charm and childish zeal with which she plays dumb with the smart subject matter smooths most – but not all – of the bumpy patches.
Review date: 4 Aug 2018
Reviewed by: Steve Bennett
Recent Reviews
What do you think?