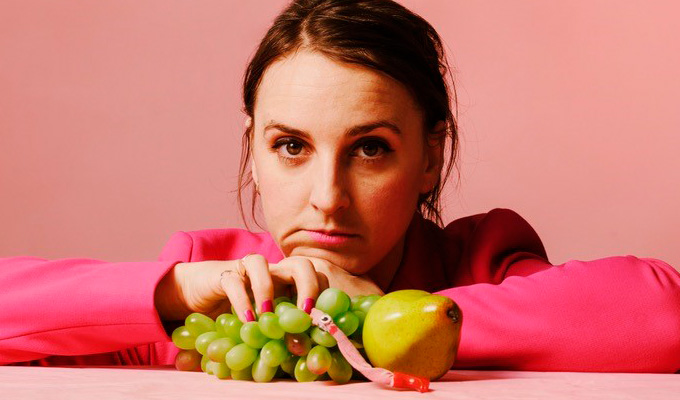 Lucy Pearman: Fruit Loop
Sometimes you watch a show full of elaborate costumes and low-fi props and wonder whether all that time with the scissors and the sewing kit wouldn't have been better spent writing some better jokes and decent plot.
Not so with Lucy Pearman. Though her story of the Little Worm who dreamed is of childish simplicity, it's an absolute delight: a bundle of winsomely funny scenes delivered with welcoming charm and infectious commitment.
One of her characters, a moustachioed bunch of grapes with a vaguely Mediterranean accent and an aversion to being looked at directly – and with the appealingly simple name Lots Of Grapes – encourages us all to sing along to La Bamba. That those who commit, however tunelessly, are celebrated for their enthusiasm, reflects the glorious carpe diem approach that surely got Pearman into all these preposterous outfits in the first place.
For Fruit Loops is so obviously done for the sheer love of it. There can be no commercial imperative since there's no TV station that would commission this – although the disarming Pearman would make a fabulously engaging kids' presenter – no mainstream comedy club where it would work. But Pearman just wants to indulge in some ridiculous play for an hour, and will effortlessly cajole us into joining her.
On his quest, the hero of the hour, Little Worm (very prosaic in the choice of character name again) must outwit the villainous Early Bird – booed and jeered like the pantomime villain he is – and face a split-spluttering Uber driver on a trip to the Big Apple. Of course, that's taken very literally, a fruit portrayed by Pearman singing rewritten showtimes from Cabaret and Chicago.
Funnier images yet come when she transforms into a deaf potato for one of the most gloriously contrived puns of the festival, and her hilarious portrayal of Little Worm in close-up. (He appears in various sizes across the skits, for the sake of perspective).Yet one of the best jokes of the hour happens, unmentioned in the background, unconnected to the story.
Pearman is forever messing with us, but always in the most playfully skittish way – and her palpable enjoyment and unaffected, lively demeanour win everyone over in a joyful celebration of positivity.
Review date: 10 Aug 2018
Reviewed by: Steve Bennett
Reviewed at: Monkey Barrel Comedy Club
Recent Reviews
What do you think?