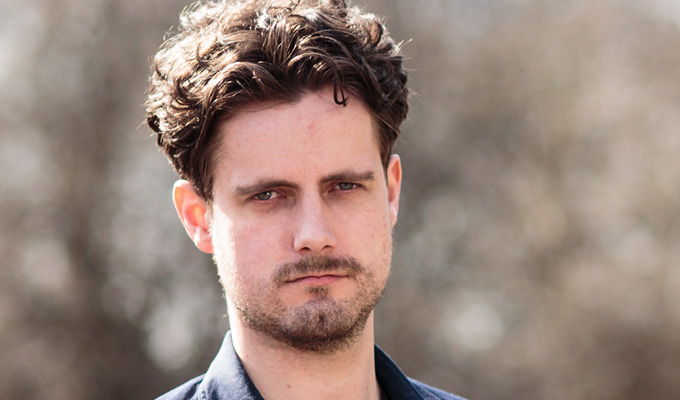 James Meehan: Gaz
It's probably only the comedy world that's aware of the context of James Meehan's show, Gaz. Much like John Robins and Sara Pascoe last year, James Meehan and his ex-girlfriend, Kiri Pritchard-McLean, are both doing shows about their break-up at the same time.
In all honesty, Meehan's hour is more tragic than comic, the show of a man still searching for his place in the world and desperate for some inner contentment.
He gives us an unvarnished description of his working-class upbringing, of poverty, a mum who suffered horribly with mental health problems, and a succession of bad men in his life, the exception being his dad.
His attempts to inject some humour into this are only so-so, though we're not talking awkward so-so here; we know from his time in sketch group Gein's Family Giftshop what a talented performer he can be, and even in this low-key standup show that does come through.
The main purpose of all this appears to be to get something off his chest, and defend himself – any funnies are a bonus. Indeed he says that Gaz was hastily rewritten two months ago after he learned of Pritchard-McLean's show. Perhaps we'll get to see his musical about depression with sock puppets next year.
The most comic moments are his mini routine on being a roadie, and his reading preferences, though the latter comes with a bitter jibe about Cambridge graduates who do comedy. Otherwise, though the dark humour of this show is more dark than humorous and Meehan hasn't been able to write it out of its rut. One bit relating to what you should do if you had the ability to pause time – play a repeated practical joke on someone you don't like – got laughs but was also overtly and unnecessarily cruel.
When Meehan gets to the subject of the relationship, the humour all but dries up, and he doesn't hold back in giving his version of events. He says he was bullied and mocked for his weight, ended up cheating on her, and eventually left.
He also alludes to winning a court case against his ex for things she'd said – and it was two years ago that they broke up. On the subject of his weight, he's now 'two stone happier', and to prove this he performs the show almost topless, with the zip on his tracksuit open. I can see why he did this but it is also quite an aggressive thing for an audience member to walk in to from the start.
Meehan is self-reflexive enough to admit that he hates his background and he needs to start owning it, so he can move forward. By the end, Gaz is closer to a therapy session than showbiz, and he apologises for making it so 'full on'. The sense you get is of a young man who's not only pitched against his ex, but against the world, and himself.
His biggest fear, he says, is being publicly written off as just another bad working-class man, and makes the link between his reputation and the bad men he wants to distance himself from, the men who have hurt him and his mum – violent men, a rapist. He makes that link, I don't think anybody else would.
The question I have is how fair all this is on the audience. Of course, comics will bare their souls onstage, but when a show becomes more for the comic's benefit than the audience's then a line has been crossed. It would be unfair to say that Meehan hasn't tried to make a show of his situation, but I doubt many audience members will go away talking about the pre-split material.
Review date: 16 Aug 2018
Reviewed by: Paul Fleckney
Reviewed at: Just The Tonic at The Caves
Recent Reviews
What do you think?