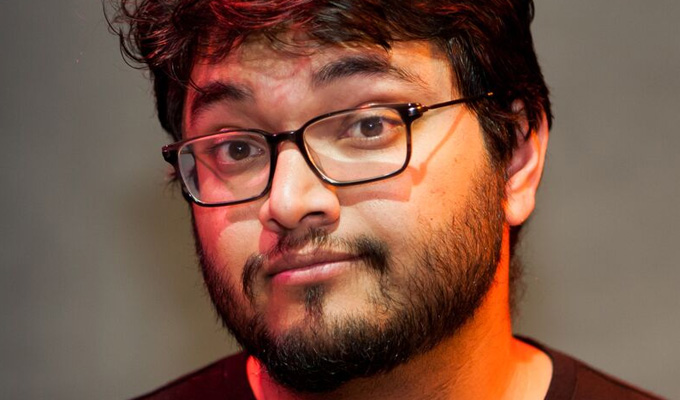 Sid Singh: American Bot
American Bot isn't just Sid Singh's latest show title, it's also a fitting overview of his comic persona - a California native who can autonomously run a script with mechanical proficiency. A fact which wasn't lost on a small but appreciative audience.
While only six of the venue's 80 chairs were occupied, Singh's personality more than filled the room. His ability to engage a meagre crowd is testament to his professionalism. What could have been an awkward hour was skilfully reclaimed as a charmingly intimate performance.
The show is a carefully plotted navigation through the inequality, greed and socio-economic impact of America's tech industry; an informative journey with international resonance. Armed with statistics and loaded with disdain, Singh opens fire on the profiteering moguls who wreak injustice in the shadow of technological innovation.
Although the premise is aggressively charged, his delivery is anything but confrontational. There's an air of Mitch Hedberg in his unassuming playfulness which perfectly offsets the sobriety of his content. He's inclined to accent a punchline with the gesticulation of an 80s breakdancer, popping and locking to his own mic dropping (which is far more endearing than it sounds).
In a memorable segment about the clandestine undertakings of the Silicon Valley rich, Singh theorises that a means of time travel has already been conceived. His gloriously animated skit imagines the 'shady, conservative, white guy' with the ability to alter the past, but who waives the opportunity to 'kill Hitler' or serve any objective good.
It's amid these hypothetical explorations we see Singh come into his own. He has an unrivalled faculty to draw gags from situations of his own design.
A quietly competent comedian on the cusp of mainstream success, Singh has boundless potential. He's occasionally heavy on the precursory information to a set-up, but this down to the self-imposed constraints of a fact-driven narrative.
An ambitious show from an incredibly likeable act. American Bot is wholly deserving of your attention.
Review date: 8 Aug 2018
Reviewed by: Stephanie Lim
Reviewed at: Just the Tonic at The Mash House
Recent Reviews
What do you think?