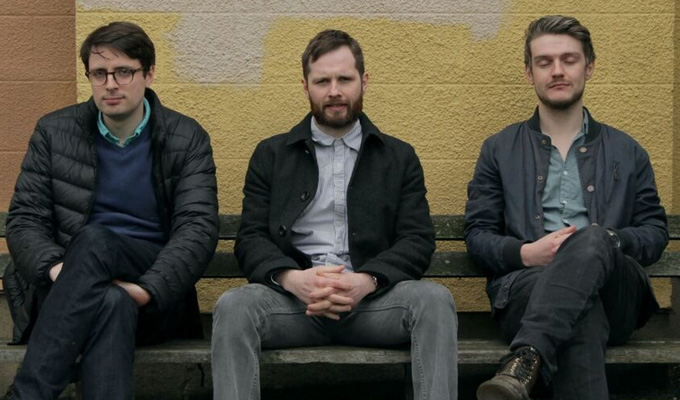 Sheeps: Live and Loud Selfie Sex Harry Potter
Those silly Sheeps boys. It's been three years since we've had a full-length show from them and they've returned with a ruddy cracker. And in a year that seems light on good sketch, Liam Williams, Alastair Roberts and Daran Johnson's talent stands out more so than usual.
Are they happy to be back? Sheeps aren't a clappy smiley sketch group and sincerity isn't exactly on brand for them, but their performance and chemistry suggests a happy camp, that things are clicking.
Things need to click, too, because they, more than most sketchers, have an unspoken harmony to their shows that goes beyond each member saying and doing something at the right time. When they perform their opening number Sheeps Are Back – a top-hatted showtune that's as drowsy as a wasp in winter – it feels uniquely Sheeps-ish; no one else would come up with such a brilliantly ridiculous concept. The literal lyrics telling us that the show is 'good' and will be 'funny' cut right through the language of showbiz, which is all hype and hyperbole.
Their strained friendship is a running joke in-between the sketches. They're 30 now and not 20 and don't do the same things as they did when they started going to the Fringe. It's 'Jono' who is the victim in all this, the only single one and unable to adjust to the new reality. This situation creeps up on the show, starting as just a passing comment, but sad Jono – who makes me think of a Charlie Brown character – won't let it lie, and eventually it becomes the whole reason the show exists.
Sheeps have targets, too. Smug East London tech bros get the Sheeps treatment in one of the high points of the show. There's a 'little bit of politics', with a sketch that's set in war-torn Syria. The grieving Syrians consider the plight of poor old Britain where one of them was going to live as a refugee. It's 'first world problems' in sketch form and is unusually unsubtle for Sheeps. Jordan Peterson sticks his oar in too, Roberts taking the role of the over-confident professor who can't help but let the mask slip. Again it's not their most elegant sketch but a good'un all the same.
They allow themselves a bit of clever-clever meta fun with a sketch in which their mistakes and corrections of each other are all in the script, round they go starting and restarting. To dismiss this as typically Sheeps-ish would be like criticising Messi for curling in another 30-yarder. It's brilliant and funny and perfectly executed. Another highlight is a restaurant scene where something has been added to the bill that shouldn't be there. The exaggerated and chilling nature of the sketch reminds me of, funnily enough, Monty Python. Finally, some modern comedy John Cleese would approve of.
Most of all, everything is done in the unique Sheeps voice that they have had right from show one. It's a heavily ironic, listless voice that permeates everything they do, even down to their show names and posters, and I love it.
Review date: 10 Aug 2018
Reviewed by: Paul Fleckney
Recent Reviews
What do you think?