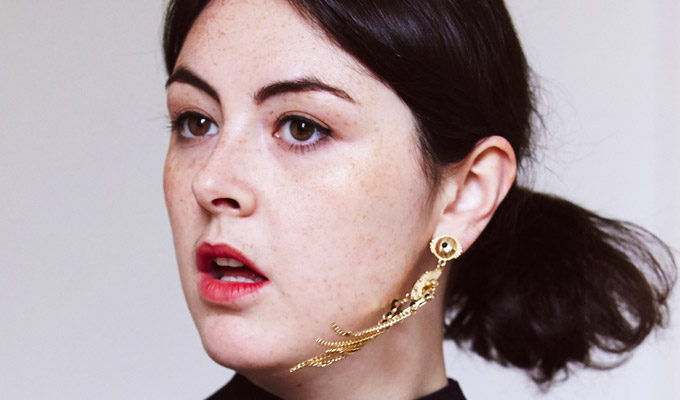 Emma Sidi: Faces Of Grace
All five women in Emma Sidi's latest character comedy showcase are lost in some way or another, feeling rejected by the world and searching for the one thing that they want to be defined by. That could be friends, a job, fame or credibility.
Having such a void to be filled is, of course, common among any character, comic or dramatic. However, Sidi makes this explicit, but not obvious… it's clear the longing is what drives each of them.
She's also come up with a simple but effective way of switching between each of the personas, who are indicated by the simplest pieces of wardrobe. Sidi flips between them as she walks under a floral arch, prompting a snap of sound and light and an instantaneous transformation, like a Stargate between souls.
First up is Cathy Burham, an inept would-be choreographer spouting jargon about the positivity of kinetic movement (as opposed to the static kind of movement, presumably), and teaching the audience to identify five key components. This is a fairly straightforward icebreaker, but she's also the vessel for a couple of strong gags largely unrelated to her personality; while her attempts to put a professional sheen on angry outbursts have clearer comic potential.
The excitable, horoscope-obsessed American finding everything 'adorable' or 'hi-larious' starts off as an archetype. But Sidi is more precise in her weirdness than that, with attention to detail in her gushing description of a blind date at Pizza Express.
Britta is irrepressibly cheery, too, referring to people as 'cheeky buggers' in her indeterminate accent - somewhere in South East Europe maybe? – and giddy with excitement at the biggest event in her social calendar: the Capital Summertime Ball. But the upbeat facade hides the fact she only has her cat as a friend, winning our sympathies. Britta has already appeared in some BBC Three shorts, and feels like the creation with the most fleshed-out personality.
Then there's Love Island wannabe Lesley, who's feeling muggy because people are giving her the ick. Again she has a hidden sadness that makes her more likeable than the vacuous personality she projects. But this segment is made by the wonderful absurdity of her the tall tale of her encounter with Billy Piper on a bus, which conjures up daft, surreal images.
Its more tricky to know what to make of aspiring nurse Maybelline, who again has her share of peculiarities: raised by pigs, for starters. But her dream of being accepted by the NHS gives the show a payoff, beyond being a simple cavalcade of peculiar folk.
Review date: 17 Aug 2018
Reviewed by: Steve Bennett
Reviewed at: Pleasance Courtyard
Recent Reviews
What do you think?