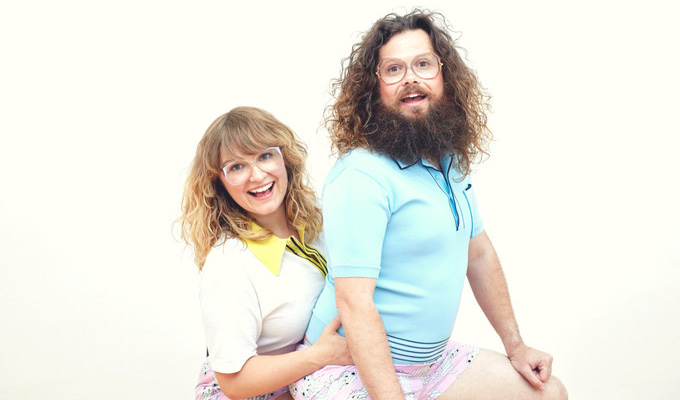 Two Little Dickheads
Don't panic! The end of the world is nigh - thanks to a diamond-encrusted meteorite heading towards Earth – but until it hits, Two Little Dickheads will distract us with their quirky shenanigans.
This is low-fi arthouse comedy at its most exuberant... which may serve as an advert or a warning depending on your response to eccentric idiocy.
The tone is set from the fact that Sharnema Nougar and David Tieck perform in their cat-patterned PJ trousers and dressing gowns – they are obsessed by their feline companions, two rescues which gives them a satirical smugness that they are 'good people'.
He's a Build-A-Bear version of a hipster, hairy and cuddly. She's a female Clark Kent, hiding a cabaret superheroine behind her outsize glasses and geeky demeanour. Only when she gets to do a song at the end are her true powers revealed.
Their show is uneven, sometimes sloping into the self-indulgent but peaks at joyous silliness. Their opening re-enactment of a dramatic breakfast falls into the first trap, overlong and under-funny, but certainly as hammily dramatic as the billing suggests, and all in the name of a truly dismal pun.
But the charming DIY sensibilities, endearing outsider personalities and occasional flashes of writing sharper than their whimsical demeanour promises elevate the show out of the cutesy world it threatens to inhabit. Brisk character scenes up the gag rate, and an overarching sense of good humour is infectious, even if not every individual component quite comes off (shadow puppetry, anyone?)
There can certainly be no debating the Dickheads' devotion to the cause, either: a One Man Conga rivals Tim Vine's 'pen behind the ear' for preposterously pointless repetition, and is just as funny for it.
So ultimately the climactic destruction of Earth and all life on it is a cheerily upbeat prospect, thanks to these pair: Dickheads by name and dickheads by nature.
Review date: 22 Aug 2018
Reviewed by: Steve Bennett
Reviewed at: Just the Tonic at The Mash House
Recent Reviews
What do you think?