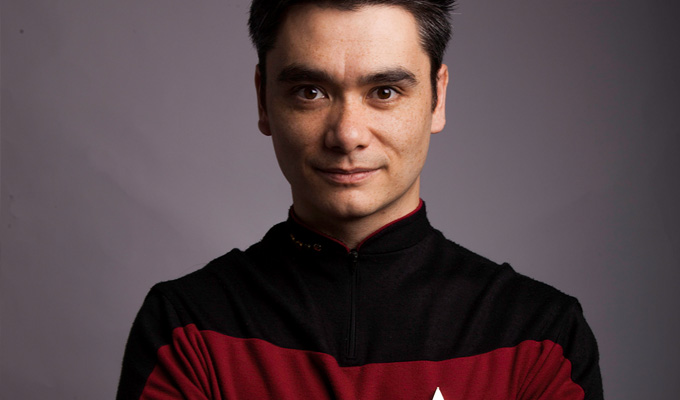 Rik Carranza: Still A Fan
Note: This review is from 2018
Devoted to Star Trek, you might think that Rik Carranza's show would be a niche concern. And it is, to an extent, rewarding Trekkies with in-jokes that elicit knowing chuckles from isolated pockets of the room.
However, this is a show about the consolations of fandom generally, the concept of which, as Carranza explains, has concrete origins in religion. Taking a straw poll of the crowd at the top to establish the levels of geekdom he's working with, this is nevertheless an inclusive hour aimed at anyone who's ever felt a misfit. And justifiably despises The Big Bang Theory.
Carranza has struggled with his identity since childhood, caught between an emotive dreamer of a Filipino father and his cold Scottish mother, a mixed-race kid who became an easy target for Edinburgh's adolescent bullies. Growing up, he never saw someone like himself represented on television until he encountered Star Trek: The Next Generation. The Klingon security officer Lieutenant Worf shared a similar high forehead to his father. And so Carranza became hooked.
Reflecting on the Klingons surrogacy for Russians as they emerged during the Cold War era of the Trek TV series, and further, superficially likening Worf to Donald Trump, Carranza somehow fails to complete the circle by referencing current accusations of collusion between Moscow and Trump's presidential campaign. Enamoured of Star Trek's utopian vision and focused on his personal story, he perhaps isn't the most probing cultural commentator.
But he knows his Star Trek. And alighting upon the original series, he found his role model in Lieutenant Sulu, whose progressive casting as an Asian actor in a prominent role has since been amplified by the actor George Takei's gay rights activism and mastery of the internet. In all the trials and tribulations of Carranza's life, some of it caused by his love of the series, Star Trek afforded him escape to a more accepting universe.
Unfortunately, he also began to experiment with other, more extreme ways to flee his depression. And when matters come to a head, the show's second act takes a surprising twist as Carranza channels his desire to conform into a new obsession, which he nevertheless bends to his geekiness.
With a wife, better job and improved relationship with his mother, he seems to have finally found the acceptance he always craved. But then Star Trek re-enters his life once more and he's forced to confront who he really is.
A deeper and more affecting tale of self-discovery than there's initially any right to expect, Still A Fan draws visible tears and bitterness from Carranza in the retelling. Like Star Trek itself, he's a little too self-congratulatory in his claims to liberal forward-thinking, especially as a personal encounter with Takei is interpreted in a way that veers ominously near to homophobia.
Still, he's droll on the peculiarities and comforts of obsession and the patterns of behaviour behind it, aware of Star Trek's sometimes contradictory philosophy, while making an eloquent case for its enduring greatness.
Review date: 23 Aug 2018
Reviewed by: Jay Richardson
Reviewed at: Gilded Balloon Rose Theatre