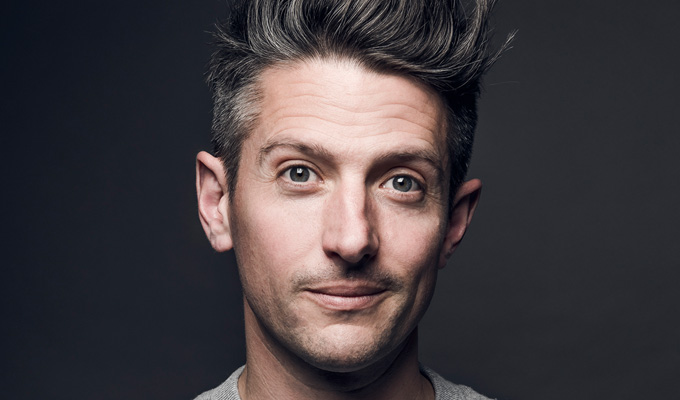 Stuart Goldsmith: End Of
Stuart Goldsmith isn't the type to moan, but he does allow himself a little moan during his latest show, End Of, about how so many of the comics he started out with are now millionaires while he's still in that no-man's land of 'successful but not famous'. It's the striving, the never-ending striving, he says, that wears you down.
There are moments when I can see his point. At his best, Goldsmith produces comedy that's relatable yet imaginative and smart; all those years of club time have made him a lean comedy machine. His show last year, Like I Mean It, I thought was superb, and deserved to knock him up a few rungs. While End Of isn't quite so consistent, it does once again showcase his ability to put together a hefty (in a good way) yet light (in a good way) hour.
The bulk of the show comes from his new-ish life as a dad and husband. He takes great joy in inventing family traditions to his young child and has to be set up with other dads to become fwends. In one brilliant routine, he talks about how everyone is just taking life tips off people five years older than them, and we're all strung together like adventurers halfway up a mountain, no one really knowing what they're doing, the messages from the front getting garbled as they are passed down the chain. It's one of several inspired metaphorical ways of illustrating his point that Goldsmith has up his sleeve.
The other standout routine is about killing his parents – the whens, the hows, the whys. It's a light-hearted take on end-of-life care, of all things, but goes to the heart of our responsibilities as humans to take care (or 'take care') of our loved ones. This is precisely where I think Goldsmith deserves more credit, he can create brilliant material on interesting, nuanced, meaty subjects. Is he not taken as seriously as he should be because he still looks about 16 years old? I don't know.
But anyway, about that striving. Because there's a hell of a lot of that in End Of. Too much, in fact. Goldsmith really does throw the kitchen sink at it, perhaps in the belief that a few gimmicks are needed to sustain the hour when his writing is easily good enough.
A 'serious aside' about kung fu (he sits on a stool for it and everything) is a clever attempt at crowbarring some actual politics in, but it doesn't quite work and halts some of the momentum he's built up. Later on, a story about him eating a pain au chocolat in his car seems designed only so he can flail about on the stool (that bloody stool). Factor in the many many asides and bits of self-commentary and yes, it's a packed show, but it's also trying too hard to win our attention.
At times End Of reminds me of seeing a weather report on the telly: it's such a studied performance of deliberate arm movements that you have to fight to concentrate on what they're actually saying.
Perhaps this over-striving is a reflection of what he said about being left behind by his peers. Perhaps as a former street performer Goldsmith wants to show his full range and really want to put on a show – which is understandable. But I feel that when he keeps it simple, you see the best of him, and in End Of that's only some of the time.
Review date: 6 Aug 2018
Reviewed by: Paul Fleckney
Reviewed at: Liquid Room AnnexeWarehouse
Recent Reviews
What do you think?