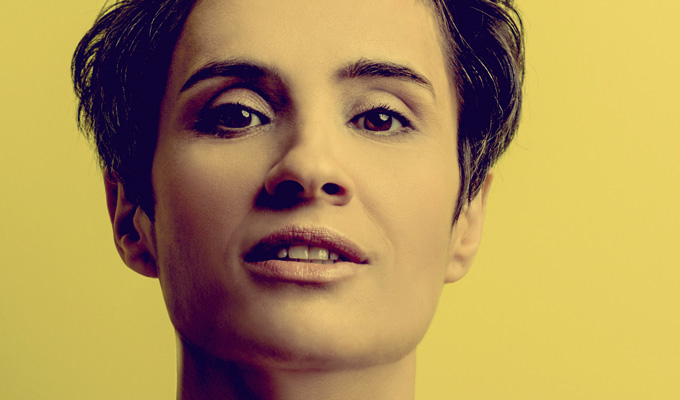 Jen Brister: Meaningless
Scorching in the white heat of its fury, Jen Brister's Fringe return is a striking example of how to channel frustration and raw emotion into hard-hitting stand-up.
A parent to twin toddlers, her caustic anger is initially directed at her mother, the Spanish woman who moved into her house earlier this year, ostensibly to help with childcare but in practice, to judge Brister at every opportunity. Simmering with resentment, the comic sporadically explodes, screaming at the lingering recollection of how she was treated differently to her brothers.
Sleep-deprived, incensed by society's double standards in raising boys and girls, Brister's more splenetic outbursts suggest a woman who no longer gives a fuck. And if that means freedom to speak her occasionally erratic mind, that's true enough. Raising young men while despising and resisting the patriarchy has given her plenty of food for thought. And her eruptions tend to be the culmination of carefully argued, acute observation.
Because she really does care. Love-hate relationships are the most relatable aspect of all parenting and Brister doesn't let anyone off the hook, least of all herself. Still, she heaps her greatest opprobrium onto a culture that renders her, a peri-menopausal woman, invisible at 43, while teenage girls can't go a minute without being objectified by men or made insecure by magazines preoccupied with body image.
Identifying with the infamous cat bin lady in her agitation, Brister is unhingedly funny but deadly serious when she denounces the marginalisation of mature women. The toxicity of inequality prompts a plea for greater empathy as she despairs at the dominance of male comedy icons around her venue's walls, while angrily demanding her share of the privilege pie.
As a younger comic, she internalised the prejudice against period jokes. Now, she's determined to talk about her cycle at length while she still can, denouncing the luxury tax on tampons and mocking sanitised commercials for sanitary products, her eyes twitching as she cries shame for a developed nation so indifferent to period poverty.
Citing oblivious throwbacks like the nightmarish Jacob Rees-Mogg as the custodians of such ignorance, it's nevertheless a more troglodyte character she brings to life for the misleading explanation of how her and her partner, two lesbians, came to conceive. Stoking fears of stolen virility in tiny, prejudiced minds, it's an hilarious act-out, driven by her incredulity that such medieval thinking still exists.
Ultimately, there is some familial reconciliation as Brister acknowledges the amnesia in memories of her upbringing and that she, too, is doomed to mess up her boys with the best of intentions, suggesting progress down the generations can only be achieved incrementally.
Too exhausted to start a revolution, no surprise after such a powerhouse performance, confronting her audience with unpalatable truths but no small amount of wit and hard-edged satire, Brister's closing remarks are appropriately dismissive, all the tough love having already been dispensed.
Review date: 16 Aug 2018
Reviewed by: Jay Richardson
Reviewed at: Monkey Barrel Comedy Club
Recent Reviews
What do you think?