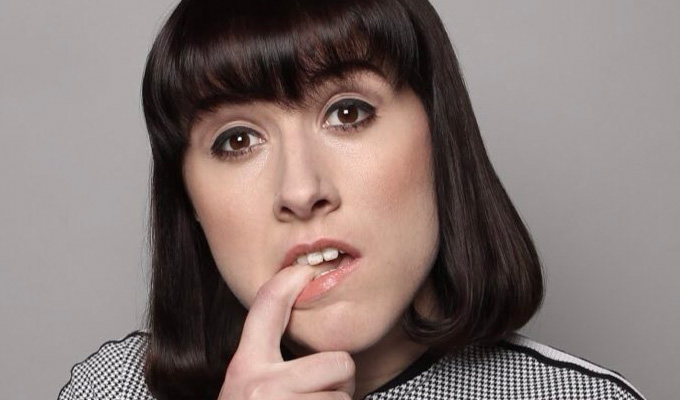 Maisie Adam: Vague
New comics who win the So You Think You're Funny? new act competition are faced with a dilemma – do they return to Edinburgh the next year to capitalise on that momentum, or wait until they are good and ready? Maisie Adam chose to take advantage of the Edinburgh run that's part of the prize immediately – and it's paid off with a best newcomer nomination today.
Undaunted by her debut just 18 months into her comedy career, she knocks through Vague with consummate ease, and there was no discernible dip in quality as the hour went on.
As with many debut shows it's a general introduction to who she is, the Maisie Adam brand – that is, she's a tall Yorkshire lass who's a 'slave to the sesh', plus the kicker: she has epilepsy. On this last point, yes this does provide a bit of emotional depth to the show as her seizures got gradually worse through her teenage years, and her reaction to them tells us a lot about her relationship with her parents, but this isn't a pity party in the slightest.
Instead, we get classic tales of youth: taking her GCSEs, working in a shop and hating every moment, going on a lairy holiday to Greece and pulling ridiculous stunts, having bad haircuts and terrible fashion sense, pulling at V festival.
Perhaps Adam, 24, is the next chronicler of life for twentysomethings – she certainly has an eye for the relatable comic observation and the smarts to back it up. Adam also has a knack for the physical stuff, whether it's exaggerated dancing or a more subtle gesture – like her impression of someone walking around a rotating postcard rack – and they really add to the material.
Another promising aspect of her debut show was her combination of openness and toughness. She's a friendly and affable comic on the whole, but during a few bits of audience interaction she showed a disciplinarian streak that can be incredibly useful for a comic. Keeping your crowd in line is something some stand-up take many years to learn and it sure helps if you're a natural at it.
If I were advising Adam I'd warn against relying too much on 'things me and my mates did when we were drunk' anecdotes. As it happens her stories are amusing and well-told but there's a high risk that they will turn out like travel stories or drug stories, ie not as interesting as the narrator thinks.
But for that, Adam's material is consistently good. Sometimes it's only a little thing here and there which suggests a comic has a higher water mark than many others, for me it was a phrase 'poisson up', which was a beautifully unexpected punchline reminiscent of Jack Whitehall, though Adam is nowhere near as cocky as that jack the lad.
Given her relative inexperience, this show is mightily impressive. She tells us that she's obsessed with standup, that she wants to do nothing else. Well, she's bloody good at it.
Review date: 22 Aug 2018
Reviewed by: Paul Fleckney
Reviewed at: Gilded Balloon Teviot
Recent Reviews
What do you think?