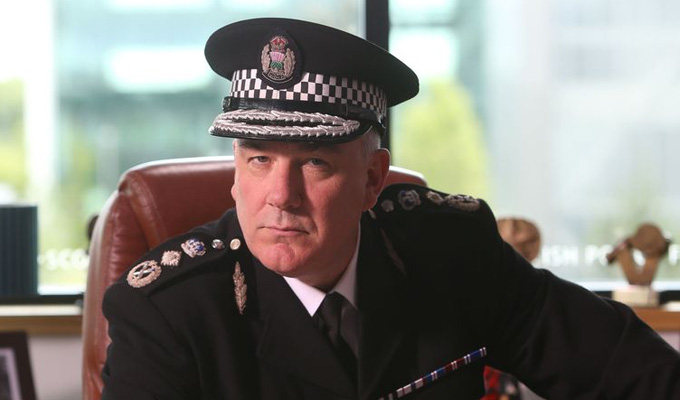 Jack Docherty: Miekelson and McGlashan – Serious Men
It's been 25 years since Jack Docherty was last at the Fringe, but he seems right at home, especially in the guise of his Scot Squad character Chief Constable Cameron Miekelson.
As an authority figure, spouting bullshit he seems to believe in, overseeing institutional failings while always finding someone else to blame, he's very much a man of our times.
He's here to unveil some new corporate messages and outline a future for the unified Scottish Police Force, which is the usual well-meaning but ineffectual corporate nonsense.
In a fluid performance, Docherty strides out from behind his lectern to address the room, making mention of topical news stories and making condescending comments about the fire brigade, mocking 'the second responders' as he tongue-in-cheek calls them. He's got a good putdown for the latecomers, too.
The disconnect with what he thinks and what he knows he's supposed to say is fertile ground, expressing a certain dewy-eyed nostalgia for the days when you could happily batter a suspect in custody and no one would bat an eyelid. He's a man who knows a ne'er-do-well 'bam' when he sees one and is itching to clean the streets on instinct alone, no bother with such political correct niceties as due process.
But for now, he's got to concern himself with a branding message for bus-stops. The vacuity of such an exercise is easy comic pickings, but Miekelson is such a well-realised creation that Docherty can make the most of it.
The hour is shared with McGlashan, the fervent Scottish nationalist who first appeared in 1980s/1990s sketch show Absolutely, more recently revived for Radio 4. But he is probably one of the less well-remembered figures from the cult favourite, as he's rather one-dimensional, and indeed overstays his welcome here, where he has been dusted down to call for a second independence referendum, but this time on the terms he insists on as head of a new political party.
There's some fun to be had at throwing insults at the English, their poncey ways and their 'fuds' like Jacob Rees-Mogg and Michael Gove - overlooking, at least temporarily that the latter was born in Edinburgh and raised in Aberdeen. This leads to his amusing frustrations that his own son might be considered part-English by McGlashan's unforgiving standards.
But the section runs out of steam, and becomes most memorable for Docherty's battles with his stick-on moustache, one of the oldest bits of physical comedy in the book, and perhaps an acknowledgement of the limitations of the character.
It leaves the hour feeling slightly underpowered, whatever the merits of Miekelson's most hopeless pronouncements.
Review date: 22 Aug 2018
Reviewed by: Steve Bennett
Reviewed at: Gilded Balloon at the Museum
Recent Reviews
What do you think?