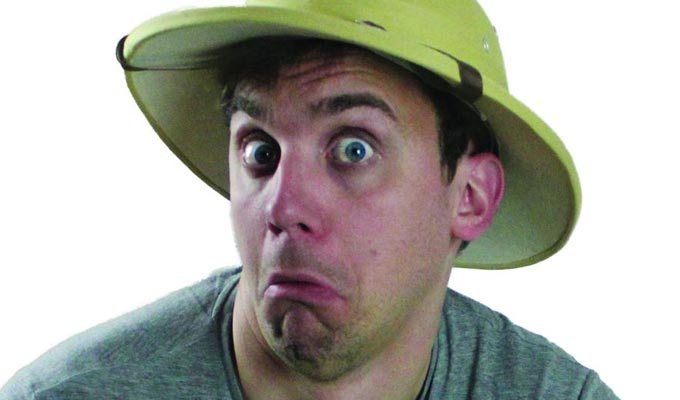 Mat Ewins: What Sorry? My Mistake! The Doors Are Not Open; The Show Has Been Cancelled. Do Not Have Your Tickets Ready!
If there were an Edinburgh Comedy Award for technical achievement in a comedy show, Mat Ewins would be a shoe-in. He's meticulously edited video clips for his show to create fake footage and snippets of fictional games, not to mention clever screen effects created live in the room. He even becomes the only comedian ever to attempt to riff with the audience via the medium of Adobe's video-editing software After Effects.
Such jiggery-pokery might be all very clever, but its results are brilliantly dumb, a cavalcade of nonsense introduced by a casually ridiculous man, apparently just mucking about but clearly committing time and effort to make his odd thoughts real.
He gives us a clue what to expect from the hilarious funny opening gag. Taking his cue from the preposterous idea that David Beckham is an actor now – especially given Ewins' struggles to break into the business that is very much a running theme – the comic imagines another football ace in a classic scene, and it's brilliant.
This isn't the only time there's a kernel of what could be a stand-up routine at the heart of a sketch, with others taking on the likes of veganism or Twitter trolls. But essentially it's all daft; Ewins takes nothing seriously - not least himself.
There's a loose story to hang some ideas. The year is 2068 and somehow newspapers are still a thing. So Ewins decides to secure his legacy by establishing a publication on the Mars colony, recruiting the audience as his journalists. And soon he has a scoop on his hands over the death of a robot. Meanwhile the irritating Mr Bibbles – a Mr Blobby de nos jours – gets on everyone's wick.
There's devil in the detail, with sly gags hidden away and cunning callbacks inserted into the most unlikely places, usually involving audience members, who become unwitting pawns in the show without ever leaving their seats.
The scrappy presentation occasionally becomes a slight drawback, as the thin central story runs out of steam. But we're never too far from another fantastic visual gag. Some of Ewins' best would be worthy of The Far Side cartoon strip, with everyday scenes given a surreal, but oddly credible, twist. At least three of the festival's funniest images probably appear in this hour. The CCTV angel is certainly up there.
Ewins has one of the best titles in the programme, but his claims to have cancelled the show are fooling anyone, crowds are pouring in, and rightly so.
He was shortlisted for the actual Edinburgh Comedy Award last year, and it would be no surprise to see him lining up with the nominees again in 2018 – even without him doctoring the footage to make that happen.
Review date: 20 Aug 2018
Reviewed by: Steve Bennett
Reviewed at: Just the Tonic at The Mash House
Recent Reviews
What do you think?