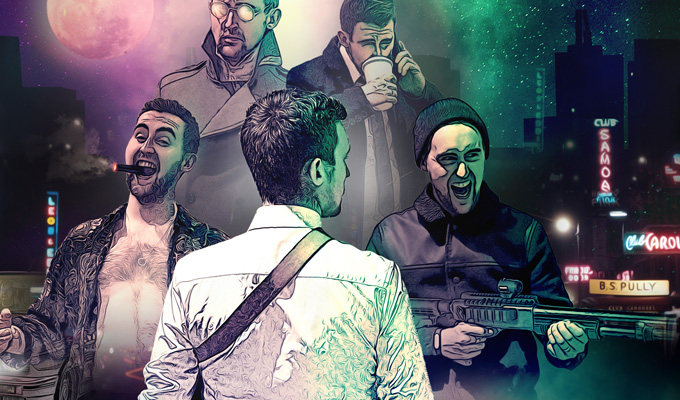 Wolf
Conjuring up a cast of dozens and big-budget special effects with nothing more than his own talent and a couple of pound-store bicycle lights, Lewis Doherty recreates a violent film noirish action blockbuster in all its glory.
The plot concerns a former cop called Wolf who returns to Shadow City – murky name, murky world – to investigate the death of his former partner. It's got everything you would expect from a genre movie: fights, car chases, shootouts, corruption… and a cyborg ninja assassin. Wolf is the hard-bitten, hardcore type, able to take out a pursuing car with nothing more than a cigarette butt, who gets drawn into the evil murderous world of a mysterious crime syndicate with friends in high places.
It's a bit clichéd, that killer mechanoid notwithstanding, but probably has to be, so he doesn't lose the audience in all the fast-paced action. But his powerhouse performance means that's never a substantial risk.
Doherty – a former member of talented but relatively overlooked sketch group Laughing Stock – showcases all his skills in holding all this together. He has a precise physicality and a gift for sound effects, proving that all those boyhood games of going 'pee-ow', 'pee-ow' with an imaginary gun have finally paid off. He's especially good at the sound of a knife being plunged repeatedly into a squidgy human body, should any foley artists be in the market…
Wolf walks in the physical comedy footsteps of Pyjama Men and Bane, the one-man film noir trilogy that was an Edinburgh hit a few years back. But maybe also the Batman villain, why not?, given the fog of dark menace that covers the action.
This is a tour-de-force of theatrical performance which has the audience transfixed, while displaying a keen attention to detail in evoking each scene. It's an inventive execution of a highly accurate parody, which is where the creative energy has been invested, rather than in creating too many specific visual gags – a fact that may be worth noting if you're looking for an out-and-out comedy
But it's a fine calling card for Dohery's intense abilities. And with commercial savvy, he's left the door open for a sequel.
Review date: 11 Aug 2018
Reviewed by: Steve Bennett
Reviewed at: Underbelly Cowgate
Recent Reviews
What do you think?