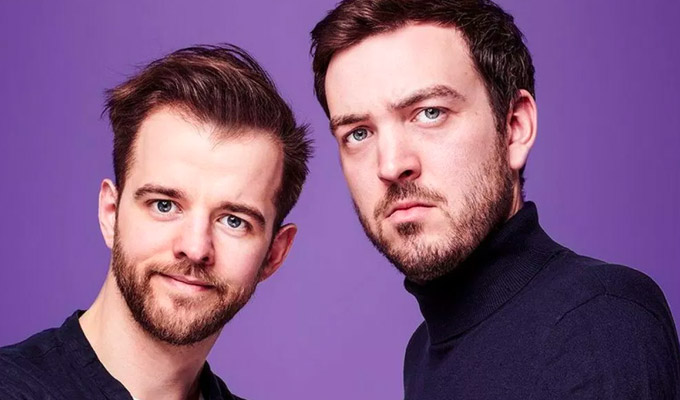 Sisters: On Demand
They are another couple of white twenty-something middle-class boys doing sketch comedy who chose a name that might convince unsuspecting ticket-buyers that they are not just another couple of white twenty-something middle-class boys doing sketch comedy.
And after getting some good word-of-mouth last Edinburgh with a show featuring dark sensibilities and a tech edge, Sisters have clearly decided that they are not going to mess with the winning formula.
However, most of the presentation feels gimmicky, and the uncompromising subject matter – the very first sketch is about child abuse – could do with more light to contrast the shade. But they are personable enough to put a cheery face on the bleakness, and some of their gags are pretty inventive.
Mark Jones and Christy White-Spunner's premise is that they are launching a comedy-on-demand service like Netflix, which means the audience members pick the next sketch from a menu. It doesn't make much difference, though: all the scenes are used, only the order can be changed.
One of their favourite, and most effective, tricks is taking ideas to preposterously great lengths. There's the French oral exam that gets very out of hand; while the actors who visit an orphanage to give the children a brutally rude awakening about what family life could entail ends very grim indeed. However, I understand they had a sketch with the same premise last year, so I hope they are not already repeating themselves.
In their chat between more formal sketches, they play up the ironic bantz, if not always entirely originally. White-Spunner's insistence on saying 'it's 2016!' as an encouragement for Jones to get with the times seems a familiar tongue-in-cheek joke, but they stick with it enough to twist it into their own pseudo-catchphrase. Meanwhile, the 'if you could go out with anyone, living or dead…' question has the predictable answer.
Scenes work best when there's a surreal edge; a particularly strong one about an airport security patdown is weird, then strangely romantic, before he inevitably bleak tagline.
Another gimmick involves fake virtual reality, and again seems driven more by the capabilities of what they can do than a great joke. Of course, all the technology eventually spins into malfunction when it emerges Sisters have been cloning mechanoids to sate the demand for their live comedy. And anyone who's read any sci-fi or watched a single episode of Black Mirror knows that probably won't end well.
As for the future of this sketch group, who knows if it'll be dystopian misery or an exciting new world? I'm sitting on the fence
Review date: 14 Aug 2018
Reviewed by: Steve Bennett
Reviewed at: Pleasance Courtyard
Recent Reviews
What do you think?