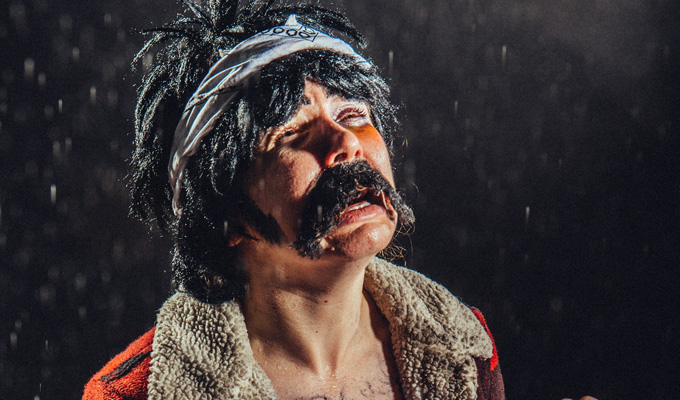 Natalie Palamides: Nate
Considering she's performing a show that's partly about consent, Natalie Palamides takes her audience to some very uncomfortable places they might not rather be. And that's even before considering the plight of those she uses on stage.
The Los Angeles-based performer won the best newcomer award last year for tackling the difficult issues of female fertility through the medium of messily smashing eggs that she'd concealed in her pants. Now she switches gender to lay bare the male psyche through her alter-ego, Nate.
He is an unreconstructed jackass, entering the stage on his mini-motorbike to the riffs of Band To The Bone while dressed in shades and fleece-lined lumberjack shirt, unbuttoned to expose his matted chest hair (as drawn on by Sharpie). He chugs back his beverages in one gulp and comports himself with a swagger that screams 'toxic masculinity' before challenging the audience to a drinking game. Once victorious, his prize is 'that I get to do what I want, who whoever I want, in this room.' A hundred sphincters tighten.
But he's not so tough as his machismo posturing would have you believe. Echoing a thousand male comedians, he confides that his girlfriend's just left him, but Nate finds it impossible to express emotion other than through testosterone-fuelled violence. Even his relationship with his best buddy, recruited from the third row, is defined through ritualistic exchanges rather than anything too meaningful.
As with 2017's Laid, Palamides tests and teases what participation her punters are happy with, pushing even the initially willing beyond their boundaries. She's fearless in where she will take this and the physical excesses create nervous laughter that gradually becomes a little more natural as the audience feel able to relax.
Even though he's an asshole, Palamides makes Nate a sympathetic asshole, limited by his environment and upbringing. If only he wasn't so straitjacketed by so much ingrained alpha-male bullshit, he'd surely be happier and kinder. The vulnerability is shown again as he tries to make a clumsy pass at his art teacher.
Yet from here on in, the show goes into its most confronting, uncomfortable territory: a take on the issues highlighted by the #metoo movement that acknowledges the murkiest of grey areas surrounding awkward sexual encounters, rather than proclaiming moral certainties from her comedy pulpit. And awkward sexual encounters are not exactly rare.
There is, therefore, much food for thought in Nate, with sombre counterpoints to the exaggeratedly dumb, crude and very messy behaviour that provides such rambunctious laughs. Some of the exposition takes longer than it needs, but there s no doubt this is a show you'll remember for a long time.
Review date: 6 Aug 2018
Reviewed by: Steve Bennett
Reviewed at: Pleasance Courtyard
Recent Reviews
What do you think?