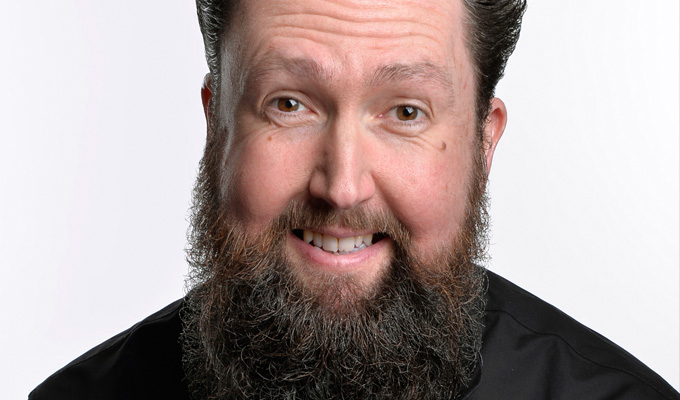 Andy Storey: Awkward
A steady-as-she-goes debut show from a comic who's still finding his feet. Andy Storey is a gentle Durham lad who has perfected the hipster look of lumberjack beard and high bouffant, and with Awkward he weaves a pleasant 45 minutes of … well, all sorts of things.
It seems Storey is still trying on various personas for size, he portrays himself variously as the London ponce drinking herbal tea, a world-weary misanthrope who counsels against visiting friends or inviting them round, and a slightly camp curtain-twitcher who you could quite imagine throwing in a Les Dawson pucker-up and boob lift.
Perhaps relatedly, there is no particular thread to the show either, just a series of unconnected jokes and stories with the occasional callback thrown in to bolster the barricades.
The overall impression is that you don't quite know what the proposition is here. Who is he and what has he gathered here to tell us? In a way it is good to be unique and resistant to being put in a box, but that's not quite the situation in Storey's case,. Instead as an audience member I sensed mixed messages, muddied waters. If he cracked this, I can see Storey coming up with a show that gets out of third gear rather better than this one.
The good news is that there are plenty of solid comic observations and concepts underpinning the material. For this reason, Awkward knocks along rather nicely for the full term, without ever running out of steam. His story about having to buy a single potato is still a chucklesome prospect as I write, even if he doesn't quite mine this gold for all its worth. His routines on children's games like Hangman and how Jesus's disciples got their names are also enjoyable.
Despite the lack of clear identity to the show, Storey is a throughly engaging comic to be in the company of for an hour. He's whimsical enough to be an interesting prospect, without ever being twee. His use of old-fashioned language – 'lady friend', 'sex movies' – would be irritating if it were an affectation just for the sake of being quirky, but it seems genuine, and is part of his likability.
I don't think he quite exploits that likability or charm fully as a comic – he is persuasive enough as a performer to take us on a real journey if he wants to, but, perhaps tentative in his debut offering, he doesn't really test this.
There are a few technical faults that could do with ironing out. He sometimes repeats a punchline, or paraphrases it immediately afterwards, which is always going to dilute the impact. Also his storytelling can be a little faltering and could do with a bit more zip to get the best out of them.
So an intriguing comic and one who certainly has something to offer, despite the teething problems.
Review date: 7 Aug 2018
Reviewed by: Paul Fleckney
Reviewed at: Just The Tonic at The Caves
Recent Reviews
What do you think?