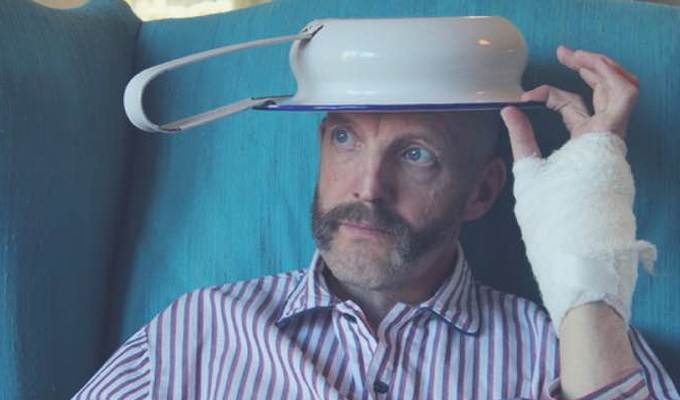 Jim Tavaré: From Deadpan to Bedpan
Jim Tavaré has returned to the Fringe for the first time in 20 years, having been pursuing a big-screen career that hit such dizzying highs as the Britain's Got Talent spin-off Pudsey: The Movie. But he's delighted that after so long in the comedy business, he is able to be performing back in Edinburgh 'at exactly the same level as before'.
That's typical of the sardonic humour that serves him so well in this show, and in the aftermath of the accident that it's about. For as Chortle readers are probably well aware, Tavaré was in a near-fatal car crash in the hills near his Los Angeles home 18 months ago.
The list of injuries he sustained is horrific, smashed ribs, his hand hanging on by skin alone, shattered leg bones, fluid on the lungs. Not only did he nearly die on the scene, but also twice in hospital, where he was put into a medically induced coma for ten days. At one point, he was told to say goodbye to his teenage children in the UK via Skype.
He doesn't remember the accident itself, but that's no bar to him producing an engrossing story about his long, near-miraculous recovery using the kind of wry – and, yes, deadpan – wit which brought him attention when he was the double-bass-wielding purveyor of dry puns on the comedy circuit.
Sometimes it feels like gallows humour, so severe was his condition, but at least we can be assured of a happy ending given that he's standing here in front of us, albeit a little lopsidedly.
Not only did doctors have to patch him up physically, there is post-traumatic stress disorder to address and an opiate dependency. Plus the more practical issue of being landed with a medical bill of around £500,000 for his 'bed and board' in the land of the private healthcare system. No wonder he includes a well-received hoorah for the NHS.
This show has plenty of gory details, but also moments of joy, not least his reunion with his dog, Mr Kippy, who had been in the car on that fateful day, but escaped injury. Ultimately, the story's as uplifting as it is compelling: Tavaré is palpably happy to be alive and that can only give us a warm feeling inside, too.
Review date: 27 Aug 2018
Reviewed by: Steve Bennett
Reviewed at: Laughing Horse @ The Counting House
Recent Reviews
What do you think?