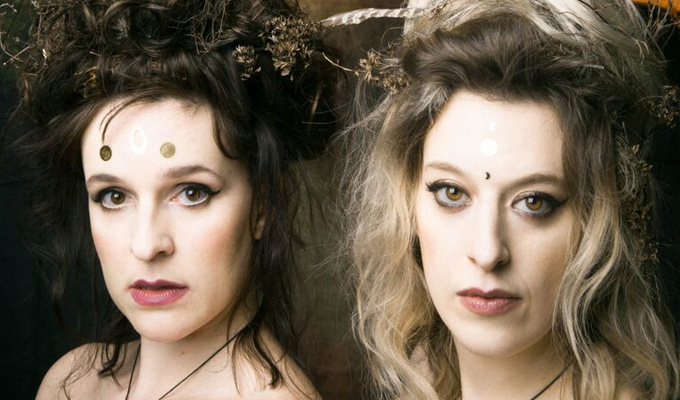 Norris & Parker: Burn The Witch
The post-10pm shows at the Fringe aren't exactly a bulging sack of delights this year, but Norris and Parker's show is a clear exception.
A League of Gentlemen-esque comedy-horror set in Phallus Ridge, the saddest town in the north-west', Burn the Witch is smart, sexy and satirical, not to mention bloody funny. The threat presented to the ordinary leave-voting people of Phallus Ridge is not just emancipated women, but sexualised women, in the form of sex witches who bring the filth out of everyone.
As is perhaps understandable for an hour-long narrative, it doesn't race out the block as the setting and characters are established, and there were a few walkouts in the first five minutes, but those people really missed out. Burn the Witch gets better as it goes along as Norris and Parker sing, dance and thrust their way through this parody of modern-day hysteria over 'out-of-control' women's rights.
All aspects of the show are rock solid – the script, the performances, the narrative – and Norris and Parker are terrific to watch and have serious comic chemistry. Norris channels Julie Walters in the role of Jean Finger, the closest thing the story has to a protagonist, and a local entertainer who likes to sing showtunes about herself. Parker's finest moment for me was her post-breakup story which culminates in her singing Irish songs adapted to celebrate her singledom – her rousing rendition of Dirty Old Slut (nee Dirty Old Town) was a hoot.
The action moves to the dark and mysterious Penis Cliffs out of town, where the sex witches are congregating, and they really convey a sense of Henry James-ish spooky tension.
Jean Finger is trying to find her missing husband while the permanently horny Evangelina Skiptuna is intent on joining the sex witches. There are lots of funny side characters along the way, such as Sandra Bullocks the local stripper, who is a timid older Scottish woman who can't contain her sadness, and the pair of hipster documentary makers who arrive in the town and don't help matters. Comedian Huge Davies also has a very funny cameo role as their sound man who takes advantage of them being offstage to perform his own rejected material.
As methods of satire go Burn The Witch is more effective than a bit of ranty standup, though towards the finish they can't help but make it explicit, via a local professor who claims that a little bit of rape is just laddish banter, and that there should be an International Men's Day.
Even in these stark terms though, Norris and Parker manage to avoid clunkiness. Overall you can't help but think Norris and Parker are ready for far wider exposure than they currently have.
Review date: 9 Aug 2018
Reviewed by: Paul Fleckney
Reviewed at: Pleasance Courtyard
Recent Reviews
What do you think?