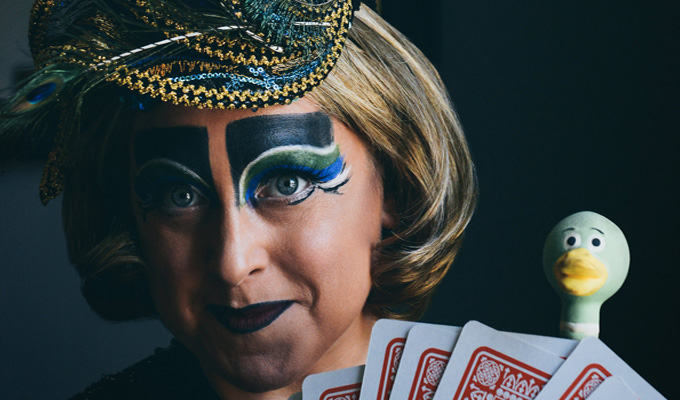 Ada Campe And The Psychic Duck
Many magicians have been vexed by how to bring their art form into the 21st Century. Well, the devilishly eccentric Ada Campe has no truck with that, instead presenting her tricks with the aesthetic of a divinely dotty variety artiste – always with that final 'e' – from the middle of last century, with an affectedly plummy voice and Rs that roll forever.
Resplendent in greasepaint and glorious feathered headdress, she is flamboyant and quite possibly bonkers, but she knows how to spin a showbusiness anecdote. This show features more shaggy dogs than psychic ducks, but her theatrical delivery draws the audience in, with extended stories that cast a spell long before she asks anyone to pick a card.
The first extended story involves a chance encounter with a potential paramour from her youth, a tale she makes rich with promise, but turns out to be a wildly circuitous route to an hilariously disappointing payoff, a reminder that this hour is going to be as much about the journey as the destination. Ms Campe – the current NATY New Act Of The Year – is a woman who loves flowing, florid language, every phrase wrought to suggest drama and erudition.
In her main story she evokes a vivid picture of a small troupe of fairground show-women she encountered, overseen by the mysterious Mme Canard, and whose routines – from juggling to card tricks to mind-reading – she stylishly recreates. That's before she introduces the titular voice and conducting a bonkers, but playful, bit of audience participation that involves acting out the most unlikely of premises with balloons and cheap props.
The mischievous creation of theatrical (in both sense of the word) academic Naomi Paxton, Ada Campe's a real one-off, a one-woman celebration of a bygone golden era of decorous razzmatazz, yet still relevant today. The tricks are tricks, nothing really that you won't have seen before, and the juggling's definitely amateur. But if Ada tells us anything, it's that presentation and image is all - and that she has nailed.
Review date: 6 Aug 2018
Reviewed by: Steve Bennett
Reviewed at: The Stand's New Town Theatre
Recent Reviews
What do you think?