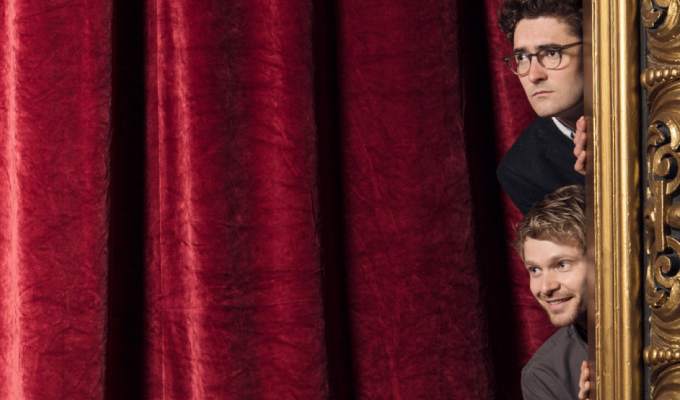 The Pin: Backstage
The Pin are certainly sharp. Ben Ashenden and Alexander Owen have come up with yet another a clever contrivance for their return to Edinburgh that showcases their inventive minds.
For his year they are not, it appears, the stars of their own show. Merely the warm-ups to a more successful double act, Philip and Robin.
So while the hour starts with the duo as front-of-cloth comics in the style of Morecambe and Wise – but with more leftfield punchlines arising from their highly unlikely misunderstandings – the action soon switches to the dressing room, where the pair start shooting the breeze and dreaming of the big time.. And in the first sign of the postmodern comedy we're in for, the audience literally become the fourth wall of the backstage area.
But things really get interesting when they start interacting with Philip and Robin, especially considering Ashenden and Owen have to play those pair too. Very meta. Such an idea requires an intricacy of writing and performances, which is where these former Footlighters come into their own.
And while they are predominantly all about an elaborate script (they do have three Radio 4 series to their name, after all), this middle-class pair also know the effect of a good visual gag. One bit of business, transferring items offstage and on, is as inventive as it is silly, and acts as a counter to some of the more book-smart elements of the script.
The main narrative also allows space for them to showcase their inventive, smartly offbeat sketch ideas. They have their own characters nailed down – Ashenden is the more sensible one whom the dumber and more mischievous Owen is always trying to prank, though it usually backfires in an unlikely way. The payoff to the 'whistling' bit is especially hilarious.
They've been performing long enough for there to be a tight chemistry between them, but not so inflexible they can't include the audience with a knowing wink. Occasionally Backstage is a little clever for its own good, but Ashenden and Owen are clearly aware of that pitfall and do their best to mitigate for it.
Review date: 9 Aug 2018
Reviewed by: Steve Bennett
Reviewed at: Pleasance Courtyard
Recent Reviews
What do you think?