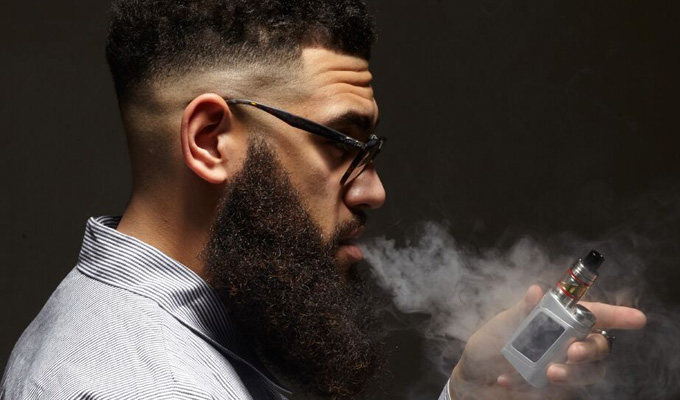 Jamali Maddix: Vape Lord
Vape Lord is a timely new offering from Jamali Maddix, which gives credence to the idea that Western society has forgone the ideals of the cultural melting pot amid a worrying renaissance of alt-right sentiment.
He broached similar terrain in his recent Viceland series, Hate Thy Neighbour, as he travelled the globe in an attempt to find the humanity behind xenophobia, but Vape Lord isn't about exposing - or trying to reason with - extremist views, it's about the impact that prejudice has on the perception of personal identity.
His premise begins to unfold during an early, X-rated gag about the revealing nature of our sexual preferences and how they hold a mirror to our most untapped, primitive selves. During an unexpected moment of passion, Maddix is surprised to learn of his partiality for a certain kink which he didn't think he'd be receptive to. Discovering that the likes and dislikes which frame his self-perception are so easily changeable, he highlights the hypocrisy of a society primed to define us before we've had the chance to define ourselves.
He draws on this throughout the hour as his enlightening anecdotes and theoretical allusions come to a head during a climactic account of a White Supremacist festival. His personal revelation explores how racial identity can inform different reactions to shared experience - even from those who hold far more liberal inclinations - which, in itself, has altered his own view of his position in the industry.
Although his narrative is ultimately solemn, Maddix achieves a remarkable balance between the pertinence of his content and comic delivery. Invoking a stylistic combination of Chris Rock and Bobcat Goldthwait, Maddix fluctuates between irreverent angst and jocular chaos which maintains a dynamic presentation.
From the onset, Maddix claimed that this particular show wasn't going to be his best having fallen prey to the mid-fringe slump, but this animated performance begs to differ. In a topical hour where high comedy meets low morals, Maddix strikes so many chords with his audience that it's all but an anthem for introspective change.
Review date: 15 Aug 2018
Reviewed by: Stephanie Lim
Reviewed at: Monkey Barrel Comedy Club
Recent Reviews
What do you think?