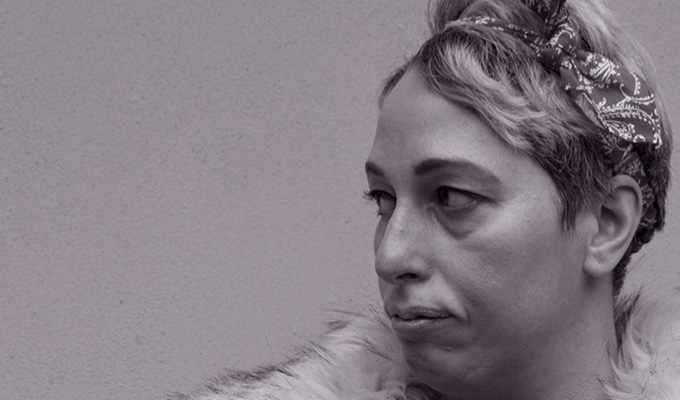 It's All My Mother's Fault
Romina Puma has muscular dystrophy and enters her room in a wheelchair – but as soon as she gets in front of the audience, she suddenly stands and exclaims: 'It's a miracle!' It's an effective icebreaker as we see she is happy to make fun of herself.
The self-deprecation continues when she compares herself to an elephant and lumping herself in the middle-aged spinster category, a 'Puma, not cougar'. She has a warm, friendly approach, but her attempts to be seen as the cheeky on comes across a bit forced: like a teacher trying to get a laugh at assembly to prove she's just like the kids.
There's a clear lineage with the personal stories, but they need more honing and she appears to lack confidence in them. Her careful, almost over-rehearsed, anecdotes depict her as someone desperate to be liked. Callbacks felt more strained than organic, clichéd set-ups like 'I know what you're thinking' didn't feel natural, and her analogies - comparing Tinder with Deliveroo, for example – were mismatched.
She doesn't need to try quite so hard because she is, in fact, amicable, in touch with her inner child and exudes a sense of humility. She is soft, despite her seemingly harsh upbringing by a cold-hearted Italian mother that gives the show its title. Semi-interesting tales from her childhood show Puma to still be bitter about it.
Puma is honest with her feelings and willing to be as vulnerable emotionally as she is physically. That includes speaking frankly about her obsession with sex, her interest in fetishes and finding men, to escape that spinster life. However, there doesn't seem to be an insight as to where her kinks come from: is this her mother's fault too?
In the spirit of emotional openness, she offered everybody a hug as they left. The affection is still strong in this one, but the material needs work.
Review date: 11 Aug 2018
Reviewed by: Sophie Cartman
Reviewed at: TheSpace @ Jury's Inn
Recent Reviews
What do you think?