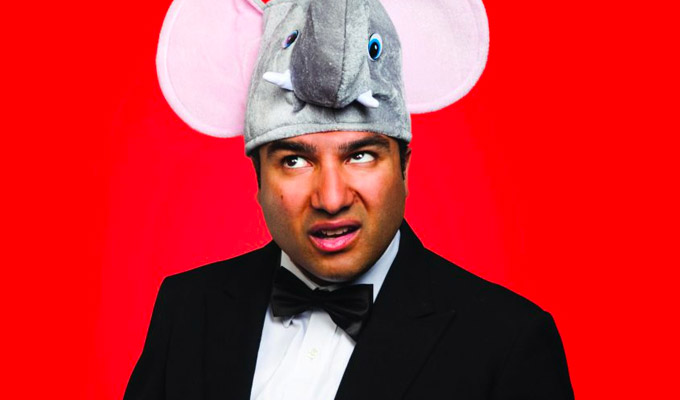 Mr Swallow And The Vanishing Elephant
You could never accuse Nick Mohammed of being short of ambition for his uptight but strangely loveable alter-ego Mr Swallow.
After escaping from a padlocked water tank while handcuffed in his last show about Houdini, he's now staging a full-blown magical spectacular to blow your mind, supposedly featuring the great illusionist's second most famous stunt. But while this show is strong on magic, it leaves the overenthusiastic character in something of a no-man's land.
In previous incarnations, he was irritating and pushy as he bullied his sidekicks, insisting on bad ideas that were doomed to failure. When he tried a trick and it worked, even he seemed surprised by it.
But now Mohammed's genuine love and talent for the magicians' arts have elbowed out some of the jokes. There are no assistants to push around, save for a silent stage manager, and the tricks are pulled off with skill. Although tonight, one feat of memory doesn't come off as planned and it feels like a damp squib.
Of course, Mr Swallow's previous incompetence hasn't entirely vanished. Spoiler alert: there is no elephant in this room, although he describes the kerfuffle it took to try to arrange it via one Sue Dean (not too far from 'Houdini').
And, yes, some segments are supposedly out of his control, providing moments of slapstick or surprise – though the alleged snafus are mostly so slick no one would believe for a moment they weren't predestined.
He saws himself in half, which isn't quite as impressive as it sounds, does a bit of business with tarot cards (Swallow adopting a Derek-Acorah-inspired Liverpudlian accent is a highlight), and memorises the menus of several high street restaurant chains.
Despite there being no pachyderm, the titular illusion is a suitable showstopper, with an extra dash of silliness… although Mohammed doesn't actually stop the show with it; as it's followed by another feat of memory that's surely much harder, but is less of a spectacle.
The result is closer to a straight magic show with very entertaining embellishments rather than something that advances the comic potential of the Mr Swallow character. But maybe the Channel 4 pilot Mohammed's working on will do that.
Review date: 7 Aug 2018
Reviewed by: Steve Bennett
Reviewed at: Pleasance Courtyard
Recent Reviews
What do you think?