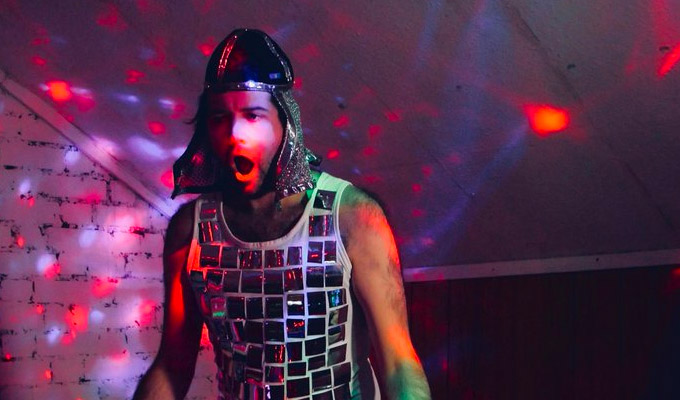 Adam Larter: Boogie Knights
Ain't nobody who makes elaborate cardboard props like him. And for his latest low-budget extravaganza, prolific punsmith Adam Larter has created a musical epic based on his firm belief that any disco hit can be battered to fit the plot of a cheesy medieval revenge story, if your wordplay is contrived enough.
In Boogie Knights he dons his glitterball armour (and occasionally sheds it to reveal his Kylie-style gold lamé shorts) to play Sir Dance-A-Lot, the last in a breed of noble dancefloor warriors banished by their rock-loving nemeses.
Can he rediscover his groove enough to help the hapless son of their slain king overcome their foes? Maybe if he can pull the sword from the Sly and the Family Stone and enlist the aid of a part-wizard, part-koala, wizard called Marlene, he can.
Not that the plot is important, just a device to get between rewritten disco bangers; the same old songs but with a different meaning. And if you like classic lyrics snuck into your sentences, Larter won't stop til you get enough. Never have so many hits been shoehorned into a storyline since the first Mamma Mia movie.
Talking of shoehorning, Kung Fu Fighting becomes, agonisingly, 'Orienteering'; while the word 'castle' is assumed to sound enough like 'hustle' to get away with that building having a theme tune. Play that punny music, white boy.
You might spot a subtext about the inclusive world of disco defeating the toxic masculinity of rock, but don't spend too much time thinking about that. The show is upbeat, silly, corny, and dubiously acted, save for Helen Duff's elf queen, which actually works better than some of the more deliberately amateurish performances.
Larter, the lynchpin of the Weirdos comedy collective, and his co-stars Duff and Sam Nicoresti seem to be enjoying larking about, but their disco spirit struggles to get from the stage to the audience.
Maybe it's the shonkiness that the production revels in, maybe it's the early timeslot and quarter-full room, maybe it's that it's basically a one-joke idea (but with lots of variations), maybe it's the fact that punters have to listen carefully to the new lyrics, but they are not lost in music.
With a crowd of people shaking their grove thang to the familiar hits, this would be a fun party prospect. Yet this afternoon the shenanigans are not quite the way, uh-huh uh-huh, they like it, despite Larter & Co's best efforts.
Review date: 8 Aug 2018
Reviewed by: Steve Bennett
Reviewed at: Heroes @ The Hive
Recent Reviews
What do you think?