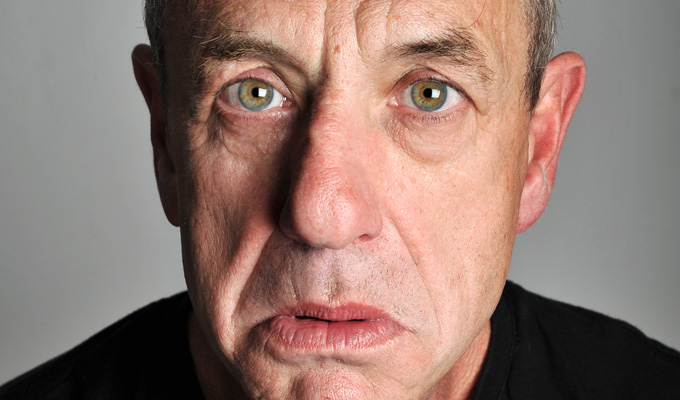 Arthur Smith: Syd
Arthur Smith is here to provide a bit of perspective to the festival of navel-gazing that is Edinburgh, with this touching show about his father, Syd, who died in 2004.
Syd was a copper in London, fought in World War Two and was a prisoner in Colditz. Needless to say, his diaries are quite a read, and Smith has brought them along as the basis of the show.
It hinges on the trip Smith and his father took many years ago to Colditz, long after it had turned into a hotel. This thread drifts in and out of the show, Smith recalling the words Syd said when he saw the castle again after all those years, and the morbid joke he played on the receptionist.
The playful jokey side of his father is something Smith clearly has a lot of affection for, and we get a taster of some of his self-penned gags – one of them a right old chestnut, another genuinely class. Dressed in a comically oversized policeman's uniform, Smith goes on to tell us about some of Syd's tales on the job, arresting drunks, doing death-knocks, and truncheoning rats.
The impression you get is not of a power-hungry man, more your kindly local copper, one who saved a young suicidal girl's life and took pity on the gay man arrested for gross indecency.
It doesn't take long for Smith's penchant for a sing-song to reveal itself, and he dusts off his gravelly vocal cords to give us renditions of Lambeth Walk, Waterloo Sunset and a couple of Leonard Cohen numbers (who else?), as texture to the storytelling – backed up by two of the Smithereens, Kirstie Newton and Ali Day.
Interwoven with this are some tales from Smith's young life. In one section he contrasts the fine time he was having in Paris age 17 – protesting, teaching, philandering – with his dad's situation at a similar age, fighting in Egypt at the Battle of El Alamein. Smith manages to be rather tickled by this without being flippant about the horrors of what his dad went through.
There are some moments of unashamed nostalgia, about the days before phones and TVs, but it gifts Smith a filthy joke about Brexiteers that gets the biggest and most raucous laugh of the show. But there's not much rose-tinted here, not when Smith is talking about his old man eating rats as a prisoner.
The gentleness of pace and tone of the show makes this a natural successor to Smith's Leonard Cohen trilogy. It's not as if he's ever been an edgy, pacey comic, but these reflective, faintly melancholic shows suit him down to the ground.
He has the wisdom and authority to carry them off and one wonders which ageing or indeed dead hero of his he will turn to next for inspiration.
Review date: 17 Aug 2018
Reviewed by: Paul Fleckney
Reviewed at: Pleasance Dome
Recent Reviews
What do you think?