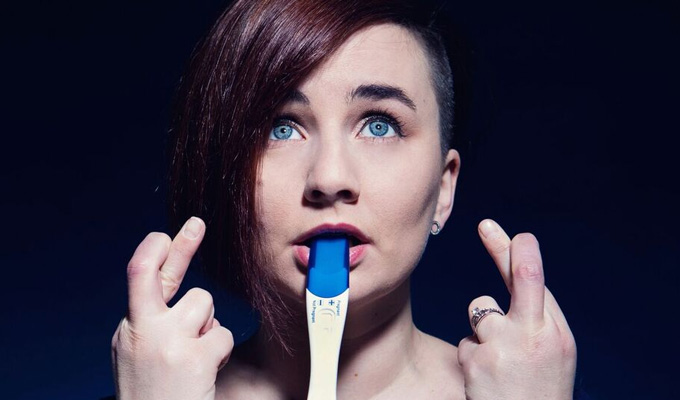 Laura Lexx: Trying
Pretty much every review of Laura Lexx speaks of her winsome charm and effervescent likability – although the infamous 2016 video of her crushing a sexist heckler showed she had an inner steel if needed. And in previous Edinburgh shows she's discussed her comfortable middle-class existence, jokingly bemoaning the fact that there was little in her snug life to provide grit for her comedy.
Well, the universe had an unkind way of resetting that balance. For Trying is about the depression and anxiety which hit when she and her husband Tom started trying for a baby, finding the process an immense stress and growing jealous of those other couples who seemed to conceive so easily.
She describes her condition as post-natal depression but without the 'natal' bit - becoming so concerned for the future of the planet she was bringing her hypothetical child into that she became a virtual lock-in dogged by suicidal thoughts and consumed by environmental fears.
As mental issues emerge from the shadows of taboo, we no longer think of depression as 'no subject for comedy'. But Lexx's show does become untethered from the need to get laughs for quite extended periods as she relives her story.
Nevertheless, she has the control and passion in her delivery to have the audience fully invested in her plight. If it's an emotional journey you want, she'll provide it, while striving towards her aim of making depression 'cute and accessible' and destigmatising antidepressants.
Still, plunging straight into this would be a challenging place to start, so Lexx prefaces the meat of her show with fond memories of a family camping trip to France that she took in the mid-1990s. As a routine, it follows a familiar template of emphasising the lax approaches to parenting in those days and trials of living in a world before smartphones. However, that holiday subsequently becomes significant as a place of comfort and security that she can envisage in her darker moments.
Funnier, and with more bite, are the routines about when she finds the strength to emerge from her funk. Suddenly the retail bullshit of a 'shopping experience' to Lush is exposed for its vacuous triviality, the questions asked about her skincare regime seeming vapid compared to her real issues.
Those she discusses with a disarming candour, conveying a real sense of the pain she was going through and the release when she finally came out of the bleakest patch. It's engrossing and poignant, without Lexx ever overplaying the victim card.
As the empathy increases, the laughs do dry up – although Lexx plainly has higher aims. Sharing her experience is certain to be succour for many other women in similar situations, showing that there can be light at the end of a tunnel, and conveying that message is the important part.
Review date: 4 Aug 2018
Reviewed by: Steve Bennett
Recent Reviews
What do you think?