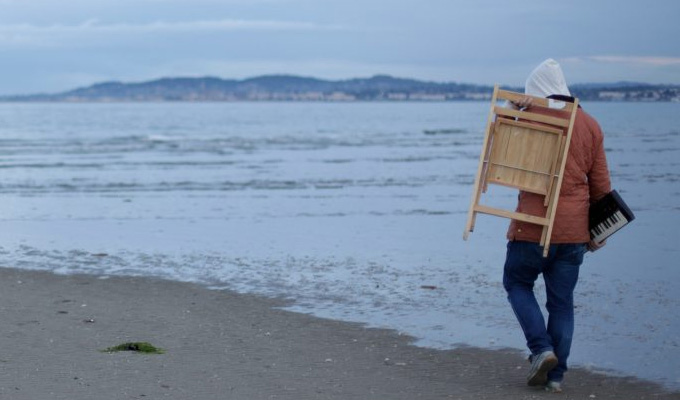 David O\'Doherty: You Have to Laugh
Ahh, that's better. The world is going to hell in a handcart and if only there were more David O'Dohertys to make everything all right. His attitude isn't to be apolitical, to bury his head in the sand, he wants to go right up to the madness and laugh in its face.
Thankfully, we can all have a go at this, because O'Doherty is on sensational form in You Have To Laugh. It is more of the same low-key songs and stand-up, of course – he isn't going to change tack now – but worldly-wise O'Doherty feels like a more substantial offering than the twee O'Doherty of yore. Perhaps the best example of this is the conversation he has with his 18-year-old self, gradually disappointing himself with each revelation about how his adult life is going.
There is still a streak of child-like innocence to the way O'Doherty thinks, even if it's applied to grown-up subjects like evolution and technology. In one delicious routine he admits he is curious about how things work, whether it's the mic lead onstage or relativity, but can't bear to listen to the answers, the detail, it's all too much.
In fact, O'Doherty is an astute observer on the subject of technology and how it's embedded in our existence. His stories of how life is both better and worse now for tech, and his night out without his phone, suggest a nuanced take: don't be a slave to it, but Luddism is also for losers.
He shows his knack for one-liners, with a couple of pearls that sum up Brexit and what it's like trying to deal with Irish politics. And he sets a high bar for his storytelling with a beauty near the start about trying to cash in a sock-full of English coins by going to a change machine in the border town of Newry.
By comparison, his other stories – the inconsiderate motorbike owner and the reason for the low water pressure in his house – don't hit the same heights but they'd be the best bits of most people's shows.
If you boil these stories down, one is born of vengeful disgust the other is kind of gruesome – it just shows how important tone is: O'Doherty's carefree positivity means he can sell you almost anything as a comic. On a similar note, there's a bit of observational comedy that's almost certainly been done before, about old cameras with their fiddly films, but it doesn't feel corny in the slightest in his hands.
Come the end, he lets it all out, the retreat of democracy, the anxiety of change, and how the transformation society is going through right now, driven by technological advance, isn't like the change that's happened in the past. As the light above him gradually dims, he returns to the same conclusion: that laughter really is the best medicine. And this show is a great big spoonful of the stuff.
Review date: 13 Aug 2018
Reviewed by: Paul Fleckney
Reviewed at: Assembly George Square
Recent Reviews
What do you think?