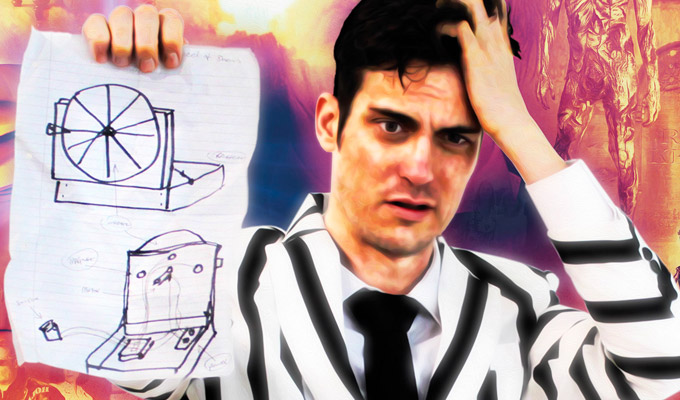 Rob Kemp's Wheel Of Shows
Mate, meta is so 2014. Rob Kemp's follow-up to his hugely successful The Elvis Dead debut is entirely about his attempts to write a follow-up to his hugely successful The Elvis Dead debut.
At some point in-between submitting his show blurb to the Fringe – 'Rob Kemp returns with ten(!) shows stuck to a spinning wheel. He'll perform whichever show it stops on' – and now, he decided against it. Or at least, that's the shtick.
In its place, you get assorted bits of stand-up and poetry and songs, plus a run-through of his aborted ideas and procrastination projects.
For a show that's annoyed with itself before its even started, it's not too shabby. Kemp is a charismatic and persuasive performer, helped along by his David-Tennant-meets-Henry-Rollins looks – he's one of those comedians who absolutely must have a sideline in being a lead singer.
In the course of Wheel Of Shows, Stewart Lee comes to mind, both in the spirit of the show – frustrated comedian who's snapped – and sometimes in Kemp's delivery, sneering round the mic and turning on his audience.
But however he dresses it up, points it out and makes a virtue of it, there's no escaping the fact that Wheel Of Shows is thin. The stand-up includes a story about a signed Lostprophets CD and the occasion that this well-behaved boy once lied brilliantly to his teacher – both are decent enough bits of material but nowt special. One of his running jokes is that he's trying to escape being penned in as a musical comic who's obsessed with films and the 80s, and that he can't help but be exactly that. It's a bit of a straw man setup that he pushes on to us rather than anything based in reality. As a consequence, some bits – like his Tim Key-ish poem that ends up being from John Carpenter's The Thing – don't have any comic oomph as we can't buy into this struggle.
This leads to some of the show's more fun moments, though. When he concedes to trying to think up more music/film mashup ideas (like The Elvis Dead), we get some of the funniest moments in the show. At first, it's just good punning, the likes of which will be doing the rounds on Twitter at any one moment, but Kemp strikes gold with one particular bit of wordplay that he correctly pursues.
I don't think it's too much of a spoiler to say that the titular wheel does actually make an appearance. As with the rest of the show it serves to allow Kemp to lament the futility of his efforts. It sits there, an emblem of his nothing show. He does very convincingly build a picture of a tragic comic, paralysed by the weight of expectation and previous success, no matter how much of a construct it all is.
A tilt at an emotional ending may well be true but it feels tacked on, and only adds to the sense that Kemp opened the cupboard in mid-July and has knocked something up from the immediately available ingredients.
Review date: 11 Aug 2018
Reviewed by: Paul Fleckney
Reviewed at: Monkey Barrel Comedy Club
Recent Reviews
What do you think?