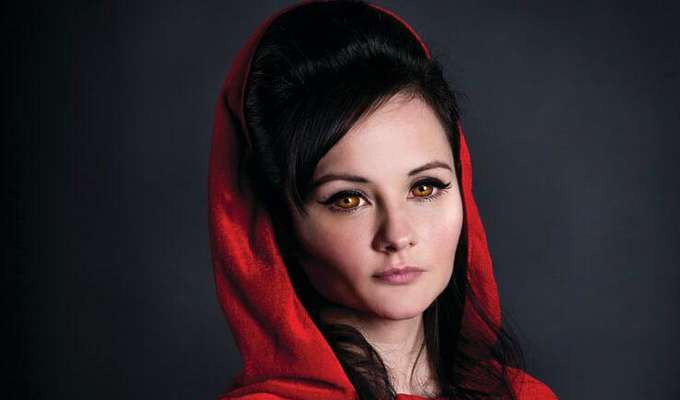 Rachel Fairburn: The Wolf At The Door
If not always a takeaway message, most Fringe shows at least end with a neat resolution. And that's arguably what Rachel Fairburn's does too – though it's very much of the upraised, two-fingered variety towards the world.
Beginning from when she explains her club set opening line, suggesting the deeper meaning behind the throwaway gag, Fairburn isn't about to give anyone an easy ride, not the audience, not those who were once close to her and certainly not herself.
This last year has been the worst of her life she relates. So bad in fact, that she had to write a show about it. Given some of the behaviour she shares, and the fallout, you can see why she wants her version of events on the record.
The mess certainly resists the trite platitudes of the fridge magnets and motivational knick-knacks of her local garden centre. Withering in her contempt for these personality substitutes so beloved by the sister she doesn't get on with, Fairburn eases into her hour by defining herself through what she isn't.
A Mancunian who takes no pride in it, she's sceptical about the supposed sexiness of the accent. And she resists the stereotypes that attach to her and her family just because they're northern, noting the famous comic who employs the accent to imply stupidity. Commanding the stage, she's cynical and caustic, sympathising with the grim, kitchen sink aesthetic of British porn.
Her annus horribilis began conventionally enough, as her long-term relationship withered on the vine and she fell for another, less than ideal, man. Complications meant that she ended up losing her best friend too, though. And when things turned nasty, with her wider friendship group shunning her, she responded in kind.
Fairburn justifies her actions up to a point but doesn't make light of them, relying on gallows humour as she recalls indulging in increasingly self-destructive behaviour, escaping to London and ultimately hitting rock bottom. Normally so confident, she was a shell of her former self, albeit still capable of perceiving the sexism in other's respective perceptions of her and her lover, as allowances were made for him while she was thrown to the wolves.
And when her final attempts at reconciliation failed, her reputation preceding her, she simply walked away, letting judgement fall where it may.
Considering the scorched earth left behind, the forthright Fairburn keeps her story entertaining. Though in its darkest moments and when she's at her most provocative, it's not always the easiest listen. I'm certainly not sure if an audio sequence justifies her using her young niece in the manner she does.
But making such a structured, accomplished story out of such bleak and difficult to process material really ought to serve her well going forward as a comic.
Review date: 26 Aug 2018
Reviewed by: Jay Richardson
Reviewed at: Underbelly Bristo Square
Recent Reviews
What do you think?