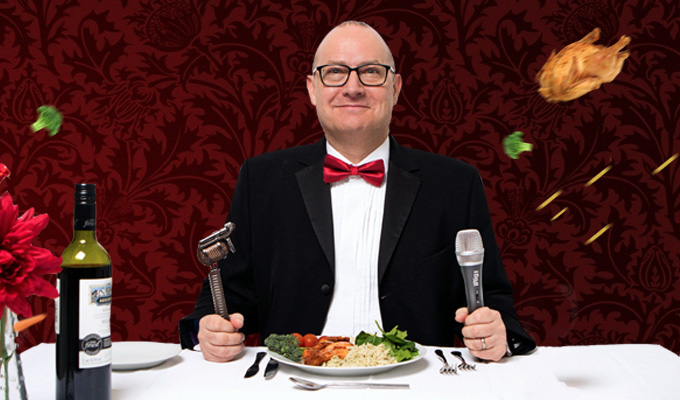 Jeremy Nicholas: After Dinner Stories From My Disastrous Broadcasting Career
If you ever wanted to hear the life story of the bloke who does the stadium announcements on Fifa 16, this is the show for you!
The avuncular Jeremy Nicholas has enjoyed a long career in broadcasting, even if you've probably never heard of him. His CV includes stints at various local radio stations as a news and sport reporter and then commentator, with a few obscure presenting credits to his name. His best claim to fame was hosting a Channel 5 sports quiz called Sick As A Parrot, which is unlikely to be repeated given that Stuart Hall was one of the team captains.
In fairness, Nicholas knows his place in the annals of showbusiness. He claims to be the 11th most famous Jeremy at the BBC – and it's a close race as to whether he's even the most famous Jeremy Nicholas on their books. A running joke is the people he's worked with who have surpassed him, from Chris Evans to Mel and Sue to the bloke off Homes Under The Hammer.
Still, he's got a few yarns from his time behind the microphone, such as being walloped by flamboyant Notts Forest manager Brian Clough, negotiating with a man who claimed to be Jesus (Clough, of course, believed himself to be God), and of having to busk it when asked to broadcast on subjects he knew little about.
However, he is more public speaker than comedian, as the title suggests, and although the stories are entertaining they're not elevated into anything special. 'All my stories are true,' he offers by way of disclaimer at the start. 'Which means they have disappointing endings.'
Efforts to spice them up with jokes don't always pay off, especially when some of this garnish is past its sell-by date. There are jokes about Vanessa Feltz being overweight – displaying an attitude as dated as the reference – on-air innuendos about the former England goalkeeper such as, 'do you think Seaman will keep a clean sheet?', and generic broadcasting stories such as announcing. 'The time is 2100 Greenwich… meantime, here is the news.'
Nichols also doesn't quite have the relaxed, naturalistic delivery of a stand-up. Most digressions off script are a little awkward, though he does ad lib a good gag or two as well. But he's an affable, clubbable sort of a chap, and on its own terms this show solidly delivers what's expected: amusing anecdotes and a few quips.
But it's so safe and cosy as to make Gyles Brandreth look edgy.
Review date: 4 Aug 2018
Reviewed by: Steve Bennett
Recent Reviews
What do you think?