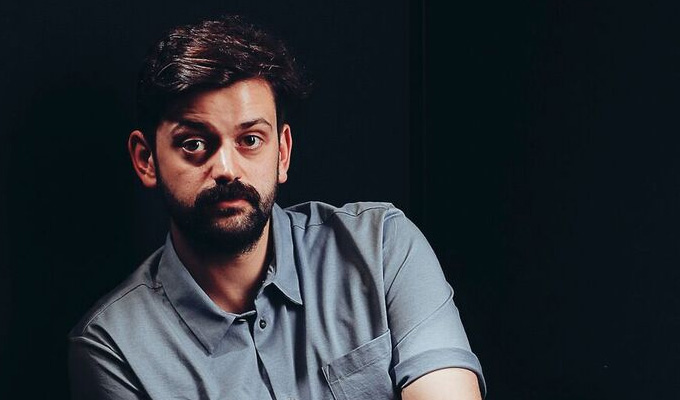 Fin Taylor: When Harassy Met Sally
After ruffling feathers on class and race, it was probably inevitable that comedy's one-man incendiary device would next turn his attention to matters of gender, identity and the #metoo movement.
And yes, Fin Taylor flirts with the boundaries of good taste like Aziz Ansari flirts with women: awkwardly, eagerly and ignoring all the warnings as to when he should probably stop. And while you might not condone his actions, the bigger problems are almost certainly elsewhere.
He comes straight out of the gates with material about trans women, saying a few things that no card-carrying libtard cuck would - such as questioning whether it's fair that they should compete against cis women in the Olympics.
But Taylor is also keen to broadly align himself with the trans rights movement, to be clear he's not just being a reactionary hatemonger. For example, he shuts down a pal who says he'd never sleep with a trans woman because they 'used to be a man' with an unarguable illustration, which conveniently happens to take the argument into even more provocative territory, too.
Taylor's implication is that his suggestions are just common sense from a relatively PC guy. Though whether we need another privileged, straight middle-class white bloke's opinion on any of these topics will always be moot.
His talk of physical attraction leads on to talk of men's sexual urges including his own, and how mating procedures, hardwired by evolution, require a certain push and pull between the participants that flirts – literally – with consent until the issue is made explicit. Hence every story from Harvey Weinstein to Aziz Ansari, who seems to have got a much rawer deal from the court of public opinion than the truly vile R Kelly.
Of course the tensions around all the sensitive issues Taylor raises, and the fear of saying something that might fall out of favour, especially when it comes the baying righteous mobs of Twitter, is what gives him his frisson. That and some grade-A joke-writing that means you laugh before you fully weigh up where you stand - or think you should stand – on the moral ambiguities he's toying with.
He explicitly plays with that danger, with a tongue-in-cheek attempt to defuse any swagger on he most contentious issues by taking a low-status position on a stool.
While he runs perilously close to running aground as he navigates the choppy ethical waters, he just about guides us through unscathed. Yet the close shaves where liberal sensitivities get perilously close to being dashed on the rocks of offensiveness are what makes it such an adrenaline-fuelled ride.
Review date: 8 Aug 2018
Reviewed by: Steve Bennett
Recent Reviews
What do you think?