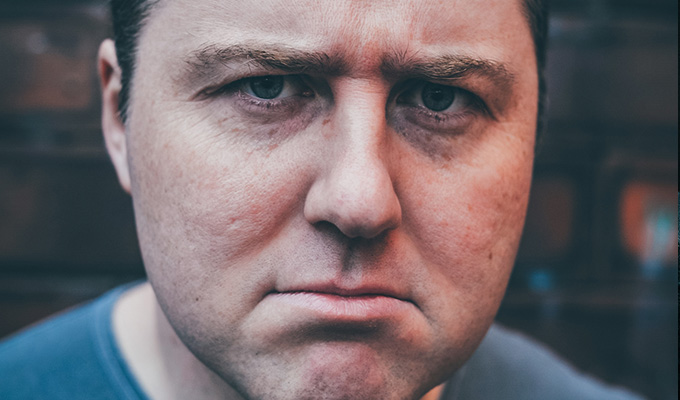 Lloyd Langford: Why the Big Face?
Note: This review is from 2018
Lloyd Langford's new show is a pithy exposé of the normalised oddities we often fail to question. From the derisory tactics of Americanised advertising to the nascent pitfalls of vigilante justice, Langford constructs a montage of anecdotal observations in an eclectic hour of quickfire gags.
Fringe purists could argue that an act worth their salt should adhere to a narrative thread, but Langford opts to forego this precedent, prioritising solid execution of varied material over any specific theme. By way of result, the uproarious laughter he gleans from the audience is proof enough that a well devised premise isn't always the standard of success.
The takeaway highlight of the evening was his wry parody of an infomercial he'd seen while touring in New Zealand. In a dynamic reimagination of a sales pitch for the - not so innovative - 'Bambillo' pillow, he effectively riffs on its ineffectual marketing which hinges on a 'very specific set of circumstances'.
There's a bashful charm to Langford which is immediately endearing. It's apparent that he cares about the audience which was most notable when he stopped, mid-set, to relocate an onlooker to a seat with a better vantage point.
While other comics would consider this an unwanted interruption, Langford's show is intended as a collective experience between audience and performer – your comfort is just as important as his.
He reiterates this sentiment at the end of the hour when he candidly asks us to 'spread the word' about the gig, '…but it doesn't have to be good'. Langford doesn't want bums on seats for the sake of a 'sell-out' run, he wants to share his material with those amenable to his comedic sensibilities – a healthy demographic if the disappointed patrons who failed to claim a seat are anything to go by.
Although his concern for the room is commendable, this sometimes translates as an overly tentative approach to subject matter with potential to offend. After a cautious scan of the room, he excused his own victimisation in a massage parlour as a sacrificial act of atonement for all male misdeeds. This isolated segment left us more concerned about his welfare than rolling in the aisles.
Nonetheless, this is a highly enjoyable hour from a fully realised comedian.
Review date: 6 Aug 2018
Reviewed by: Stephanie Lim
Reviewed at: PBH's Free Fringe @ Banshee Labyrinth
Recent Reviews
What do you think?