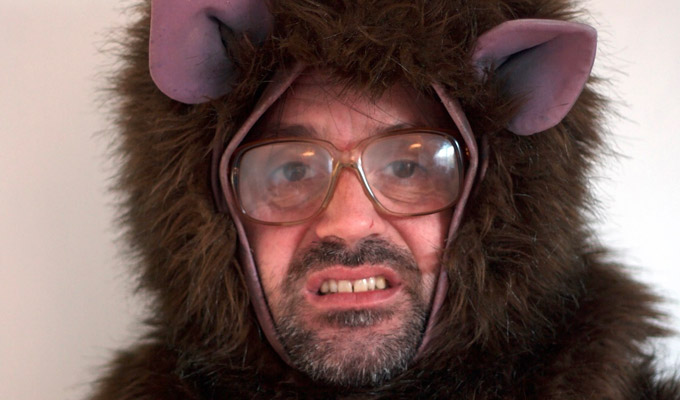 Brian Gittins: Don't Feed The Monkey Man
Grubby Brian Gittins's self-sabotaging tendencies have always made him something of a comedians' comedian, but tonight his depressive tone and reluctance to entertain dragged promising and unique material into the abyss. Although it has probably always been thus.
The unkempt, sad-sack comic grudgingly takes to the stage, dour-faced in his moth-eaten Monkey Man costume, appearing at a festival he hates to do a show he's lost faith in to an audience he resents. This is going to be an uphill struggle of his own making, and so it proves for the audience, too.
Since his creator David Earl's name is in the title now, we can know this is a character, though that doesn't make the journey any smoother for the vast majority of the 30-ish crowd not on board with his anti-comedy sensibilities. The energy-free situation might be absurd for him, but it's almost terminally awkward to us.
But eventually the strength of his ideas punctures through the pall of his presence, while the character warms to the situations he presents.
These include a twist on such gently interactive elements as a 'give me a P…' chant or conjuring up your porn star names. Other ideas get shorter shift, with characters as Old Man Mushroom being very literal, very brief and pretty funny. However, a final 'Dorothy Perkins' game, reminiscent of 1980s kids TV series The Adventure Game is overlong and under-rewarding.
The fog of despair that so often covers Gittins' performance is too unforgiving, because when his more playful side peaks out (like a prosthetic version of a certain part of his anatomy), there's actually some silly fun to be had.
Had the audience reached a critical mass of people in on the anti-comedy joke, it could work, and has done before. But, alas, not tonight.
Review date: 9 Aug 2018
Reviewed by: Steve Bennett
Reviewed at: Boteco do Brasil
Recent Reviews
What do you think?