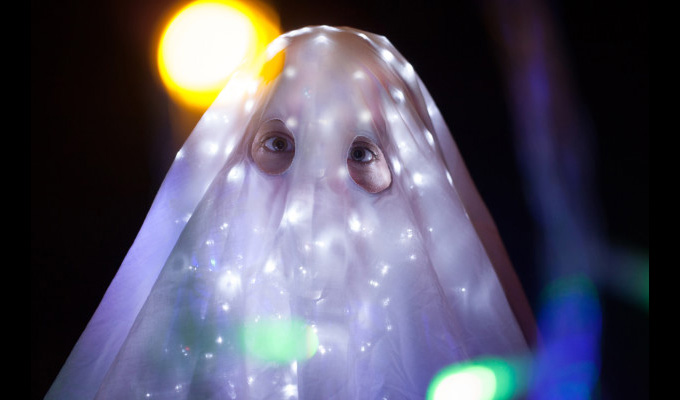 Laura Davis: Ghost Machine [2018]
'Provocative' in comedy usually implies an alpha-male swagger and some almost certainly offensive jokes. But Laura Davis is a different kind of provocative, forcing the audience to take a deep look at themselves and the certainties they think they know. 'Why don't you kill yourself?' she directly asks some of them, shining a torch into their eyes. But it's inquisitive rather than threatening, carrying no more menace than a club comedian asking what you do for a living.
The gimmick here is that she's dressed as a ghost, courtesy of an Ikea bedsheet and fairy lights. It instantly changes the accepted dynamic, simultaneously less intimate because of the theatrical conceit and the fact we cannot see her, and more intimate, because the sheet conceals the ego, and putting all focus on her words. It also leads to he pithy, pointed comment that 'people are more likely to listen to the opinions of a ghost than a woman'.
We are barely any more than ethereal phantoms anyway, she reasons. After all, we are made up of ever-renewing cells that themselves are made up of atoms, which are essentially nothing. The matter in a human would, if compressed, be smaller than a grain of sand.
As she reduces herself to her fundamental constituents, so too does she break down common experiences to their absurd basics. Her accurate but obtuse take on what's really going on when you treat thrush with yoghurt is outlandishly funny.
She also feels as invisible as a phantom in a soul-destroying day job, lonely, tediously repetitive and out of sight as she sorts cutlery in the bowels of a conference centre. No wonder she is having an existential crisis. 'I don't think I'm OK,' she says, early doors.
Scientific knowledge alarms her, from a hitherto undiscovered organ to the understanding that there are microscopic parasites that live on your eyelashes. How weird is that?! But religion is no better, what sort of psychopath needs the threat of burning in eternity forever not to be evil?
I'd be surprised if there was another comedy show that tackled such a breadth of big topics in the festival. Yet she wears it lightly, being as charming and personable performer - even in her disembodied state – as she is an intelligent one. Nor does she lose sight of finding jokes in the essential ludicrousness of human existence. Smart, challenging, ambitious, playful and funny, Davis is the ghost with the most.
Review date: 27 Aug 2018
Reviewed by: Steve Bennett
Reviewed at: Underbelly Cowgate
Recent Reviews
What do you think?