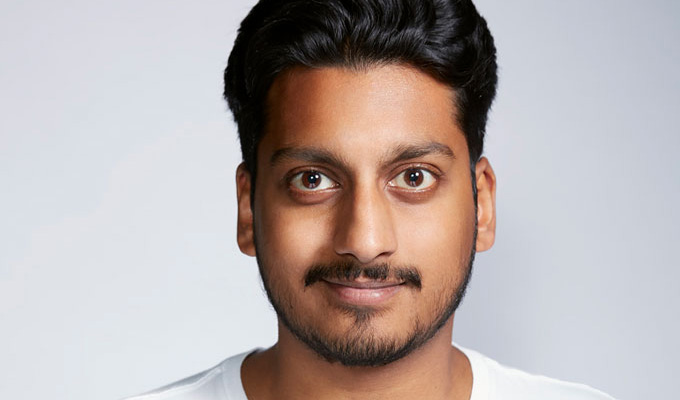 Ahir Shah: Duffer
Goodness me. Ahir Shah has returned to Edinburgh with a super-powered hour of standup, a clear step up from his 2017 show which was nominated for Best Show (just saying).
The backdrop to Duffer is the Windrush scandal from earlier this year. This was no one-off, as Shah describes how his paternal grandmother was deported 25 years ago back to India, treated like an inconvenient statistic more than a human being, in precisely the way the Windrush generation have been today. Duffer is what she used to call young Ahir.
Last year, Shah visited his gran for the first time since she was unceremoniously booted out of Britain. He knew it would also be the last time he would ever see her. As a piece of contemporaneous comedy, examining the effects of cruel and unnecessary policy, it cuts right to the bone. It would be nice if a few Conservative Ministers dropped in to watch it.
Most comics would be content with that narrative for their show, but Shah packs so much more in, and not a line of it is wasted. He touches on the difficulties of social media and dating apps, how they stretch our natural limits of empathy. There are some interesting insights into how he and his dad differently identify, his father being as he describes 'Indian-Indian' and keen for Ahir to get dual nationality (Shah has fun Reading Between the Lines of the application he fills out to this end).
He also observes how he, an atheist, deals with illness and grief compared to his religious family. Not for him the polarised demonising of religion, he wants to explore these subjects not impose a dogma. End-of-life rights, gentrification, the list goes on, always illuminating rather than muddying. Throw in some fantastic gags about the type of people who love Christianity and Islam, and a quick history lesson on the horrors of Hinduism, and you have quite the package.
No wonder he says repeatedly that he is finding life overwhelming at the moment. Perhaps to bring a little light into proceedings, Shah has an ironic running joke about how he wrote Bohemian Rhapsody when he was eight years old. This pops up every now and then like he's rewarding us with a sweet treat for bearing with the heavier stuff. He seems to be under the impression that Buffer is a trial to listen to when really it's the sight of a comic who is fully realising his huge potential.
A few criticisms: Shah still has an infuriating habit of citing people in an academic way, telling us that it was Socrates who wrote about the 'unimagined life', and the scientist who published the research saying the average person can only process having about 150 friends. It's an ostentatious display of intellectualism when it's pretty obvious how smart Shah is.
Secondly, the climax of the show goes on for far too long to feel like a climax, Instead, it stretches on and diminishes the impact. This is a shame as it's a whisker away from being perfect, and there are moments of real, raw power in there.
Be in no doubt though that this is an outstanding show; politically necessary, personally eviscerating, and heavy on the laughs. To cover such range and depth without even a hint of cliche is an enormous achievement. Duffer has really come good.
Review date: 20 Aug 2018
Reviewed by: Paul Fleckney
Reviewed at: Laughing Horse @ Cabaret Voltaire
Recent Reviews
What do you think?