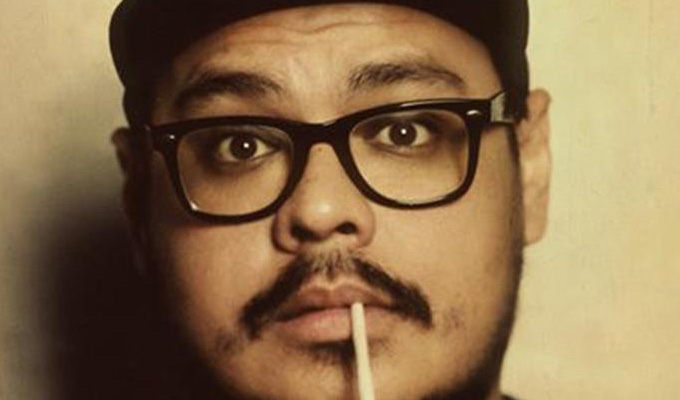 Unbecoming Ramon Rivas
There's a touch of the Reginald D Hunter about the languid philosophical approach Ramon Rivas brings to his introspective discussions of sexual politics in this late-night slot.
But it takes some time to hit that peak, with a slow build-up laying the groundwork about his Latino family history. He comes from the just-about-managing 'top of the working class' in Cleveland, Ohio, and this scene-setting – including his description of being a role model for the children of his single-mum sister, despite depicting himself as a lazy stoner – is not especially notable or funny.
More fruitful is the talk of his relationships with his father, something of an old-school alpha male, which helped define Rivas' confused attitudes towards women that he's only now starting to unlearn. Pop makes for an amusingly antediluvian comedy character, even if his divorce and subsequent behaviour left especially deep marks on his son. Bizarrely, dire financial straits all round have left the three of them still living together.
Rivas was a virgin until he was 26, and never quite seemed to strike the right relationship with women, despite empathising with them more than any of the 'dudes' he knew. The crux of his story comes when he discovers he was stored in a partner's phone under the name 'fuckboi' – leading to quite some navel-gazing (and slightly lower in the anatomy, too) about the difference between sex as a casual commodity and actually caring for someone.
What he was expecting when asked everyone in the room what they understood by this last concept wasn't clear – but it generated some thoughtful answers, not least thanks to the presence of comedians Owen O'Neill and Kevin Gildea in the audience, which complemented Ramos's own thoughtful take on the topic.
Rivas's ongoing epiphany resonates with the global mood-change that means men everywhere are now considering how they have treated the women in their life. Even if his reassessment wasn't triggered by a specific transgression, it gives this hour a topical relevance.
And as his self-awareness blossoms, the show becomes increasingly mature and thoughtful. The laughs are not especially hearty, but they are rewarding thanks to the greater context, since we empathise with his struggle to be a better man.
Review date: 20 Aug 2018
Reviewed by: Steve Bennett
Reviewed at: Stand 2
Recent Reviews
What do you think?