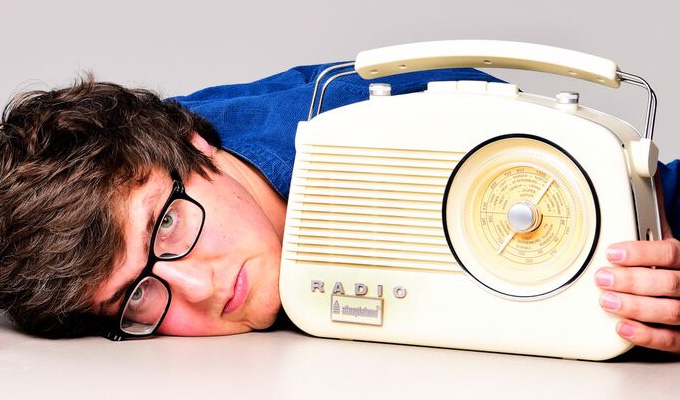 Glenn Moore: Glenn Glenn Glenn, How Do You Like It, How Do You Like It
Glenn Moore's always been a prolific writer of clever, distinctive gags, but he's sometimes struggled to square that with the demands of telling a strong, compelling story – usually being a little too quick to derail the narrative for the sake of a quality quirky quip.
But in his Edinburgh Comedy Award-nominated fourth show, he's nailed it. Brilliantly original punchlines still come thick and fast – he could easily fill any Top Ten jokes of the Fringe list single-handedly – but this time we remain absorbed in his account.
He attributes this to a newfound respect for honesty, insisting this story of becoming so sad after being dumped that he signed up to join the first manned trip to Mars is true.
Whether every word of it is literally true is one for the cynics and trusting to debate among themselves: but 2,700 people have signed up for the Mars One mission, so it's not beyond credibility. But more crucially, it feels believable; Moore convinces us that he did score with his hot flatmate who ultimately dumped him, while the third member of the household was an insufferable prick.
Jokes – even the clearly preposterous ones – do nothing to undermine that version of events, so the audience become genuinely invested in how things will work out.
Not that he's sacrificed his laugh rate; the gags are packed as tightly as the goal-hanging audience who have rammed the Tron a few hours after his place on the shortlist was announced (guilty!). Being so entwined with the story also means he can exploit running gags and callbacks much more organically, and effectively.
Some sacred cows are mocked, from surgeons – who he depicts as hard-partying drunks – to Tim Peake. Each jibe clearly comes from a position of jealousy, mind.
Gags often rest on manipulating familiar ideas or words, akin to the fine work of Milton Jones. But while some might be the result of intellectual exercises in the abstract, others are universal ideas whittled down to a core gag. For example, considering why we retain trivia but not years of schooling could make a whole stand-up routine, but here it's one line, brilliantly written because of the specificity of the references.
His persona is also a key part of the humour – the posh and emotionally stunted archetype punched up to 11 (no wonder he's reluctant to open up) and with the self-deprecation concealed behind a faux, smug arrogance. Gags are delivered with the punchy confidence that such privilege engenders, as well as the certainty that he knows how good they are.
The 'truth' concept is a little overplayed, but one thing that's not fake news is what an unflaggingly strong show this is.
Review date: 23 Aug 2018
Reviewed by: Steve Bennett
Reviewed at: Just The Tonic at The Tron
Recent Reviews
What do you think?