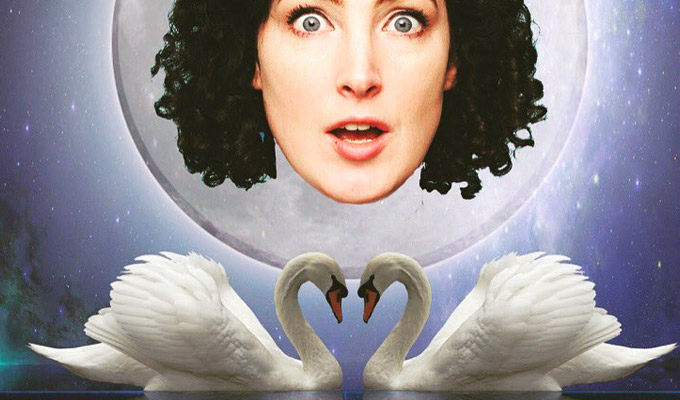 Cassie Atkinson: Swan Songs
'Think of me as a little gem on the Free Fringe,' says Cassie Atkinson as she wraps up Swan Songs. I think I'd go along with that. For in her debut hour (having done 45 minutes in 2016), this musical and character comedian shows the kind of little flicks and touches that suggest she's really one to keep an eye on.
The show is presented rather like a throwback children's show such as Playschool or Rainbow ('let's have a little song shall we?' That sort of thing). The opening section gets things off to a funny, pacy start, especially her song about the gran who accidentally takes the wrong pills one day.
In the main bulk of the show she has a few comic stories running concurrently, which she updates bit by bit. One is about a spat over a jumper between two housemates that gets well out of hand, another turns out to be quite a sprawling narrative about a young woman with a new baby (called Falcon), a needy mum and an irresponsible mate she nominates as godmother. The latter tale is told entirely by voicemail messages, which is a nice touch and works well.
It seems Atkinson gravitates towards stories and characters. In virtually all her songs and skits there's an unpretentious tale being told, and with her Lancashire accent this whole thing could be an episode of Coronation Street in a parallel universe. The ballad of Barry and Penny is the best example of this, about a couple who make eyes at each other over the counter at Greggs, the sweetness of it all ambushed by her brash Aussie friend Julie who thinks she's helping.
The laughs dry up a little as the stories unfurl, compared to the more impactful opening to the show, but Atkinson is never in any danger of losing the room. She's a warm and likeable presence who won over an audience that today was, I'm guessing, not her target audience. It helped that every interaction she sought from people was unthreatening and often funny.
The exception to Atkinson's predilection for narrative is her flamingo philosopher, Uncle Beefy, who gets us to take part in various daft ditties about beef. He gives us snippets of actual philosophical concepts (I've never seen someone dressed as a flamingo cite Plato's cave before), then cuts it down with his own wisdom. So Atkinson can do surreal too, it seems.
Uncle Beefy brings the show to a finish in suitably bizarre manner, giving us her own swan song – the song you sing before you die. In the always-tricky lunchtime slot, Atkinson won herself a few new fans.
Review date: 9 Aug 2018
Reviewed by: Paul Fleckney
Reviewed at: Waverley Bar
Recent Reviews
What do you think?