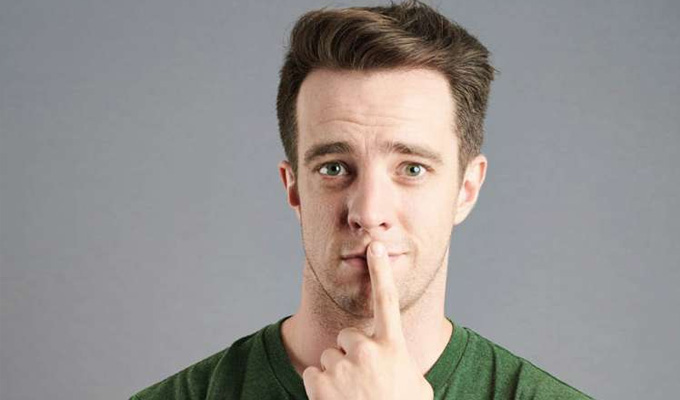 Eli Matthewson: The Year Of Magical F*cking
Young(ish) New Zealander Eli Matthewson is sparky and personable, TV-ready most probably, and with the skills to tell a good story. Yet despite having all these attributes in order, he doesn't quite punch hard enough to stand out from the crowd of similarly qualified comics.
There's not quite the extra bite – at least not consistently – nor the determination to push a joke that bit further, nor the insight to come at his topics from a less expected angle, that would make that breakthrough. Instead he retreats to relative safety a little too easily, not quite cashing in on the promise that is clearly there.
Sex is the cornerstone of the show, as you might have guessed from the title. He was a late bloomer, recalling incredulity at the Josh Hartnett film 40 Days And 40 Nights, where our star had to remain celibate for Lent. Only dick-swinging Hollywood alpha-males would think that a Herculean challenge, Matthewson argues, given his Sahara-like dry spells.
It's no wonder his own sex life got off to a faltering start, given a religious upbringing that wasn't exactly woke about homosexuality. Instead, sex education was a stern warning about STIs and a heads-up about wet dreams.
He offers gentle musings on all this. Given the potentially X-rated subject matter, it's actually pretty benign, with entertaining personal tales, the odd double entendre, or a collective shiver as he considers his parents doing it. And like all good sex tales, this show culminates in a happy ending… as he ultimately found love.
Matthewson is an endearing presence, easily getting the crowd engaged and on his side. But little of what he has to say really surprises. Indeed, some borders on the hack: the wrist action during wanking counting towards your FitBit steps, whackadoodle preachers who blame homosexuality for natural disasters, the Disney Princes with a blasé attitude to consent, and trickery to flatter the dimensions when taking a dick pic all seem overly familiar.
Some routines do pick up the average – including his finale about the hardcore conservatives' fears of a lesbian character in Frozen might play out – but Matthewson is about as solid a down-the-middle, three-star act as you are likely to find.
Review date: 11 Aug 2018
Reviewed by: Steve Bennett
Recent Reviews
What do you think?