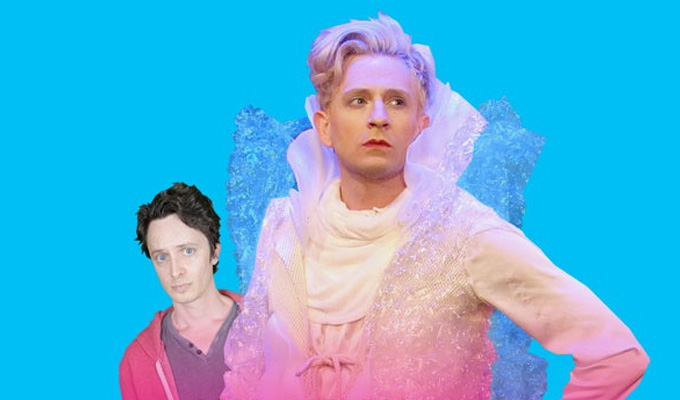 Tilda Swinton Answers An Ad On Craigslist
For this frequently hilarious comic play, performer Tom Lenk has created a glorious drag persona: a camp, ethereal, demanding, domineering, unhinged, intense narcissist, obsessed with meddling in other people's business. And she just happens to be Oscar-winner Tilda Swinton.
This transcendental force of nature has turned up at the apartment of Walt, played by writer Byron Lane, in response to the titular ad seeking a room-mate. But she's arrived at a bad time, as he's depressed about both the end of his relationship and the fact that the burger he ordered came with hated pickles.
Our diva – who enters dramatically in an extravagant frock made of bubble-wrap – says she wants to observe a sad-sack loser first-hand as research for her next role, to Walt's initial protests. But she's very persuasive and is soon sticking her nose into every aspect of his life.
While she's there, Walt is visited by his shallow, Instagram-obsessed ex, Bob, his over-emotional mum, and his pernickety dad, which helps the beatific Ms S divine the true nature of Walt's personality, help him address the conflicts in his life, and hopefully lead him into some self-awareness.
As a straight play, Tilda Swinton Answers an Ad on Craigslist would be pretty vapid, as most of the supporting characters are two-dimensional, and their developments only marginal, despite the best efforts of the cast to breath credible life into them. However, this is not a straight play, but a playground for our magnificently over-the-top star.
Her oddness and her flamboyance are a giddying cocktail. With a combination of other-worldly presence and Hollywood ego, she makes such arrogantly odd boasts that she was in The Color Purple, playing the role of Purple – and dares you to prove that she wasn't.
Most of her focus is on Walt, who reacts well to her insanities, initially cowed as he defends his life, but ultimately empowered. 'Tilda' is not averse to interacting with the audience, and also sometimes snaps the lights to a dramatic spot, to deliver a supposedly insightful monologue to an unseen camera.
The unpredictable whirlwind performance is a riot, with Swinton's absurdity entirely credible from such an outrageously, unearthly personality. It's a tour-de-force comic performance worthy of the woman herself – but far funnier.
Review date: 21 Aug 2018
Reviewed by: Steve Bennett
Reviewed at: Assembly George Square
Recent Reviews
What do you think?