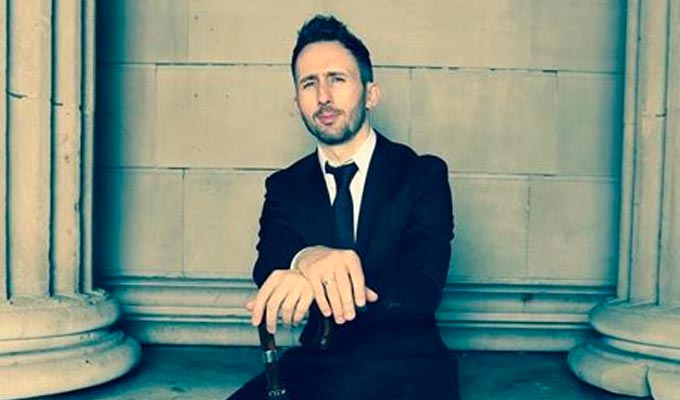 Nathan Cassidy: If I Caused the Financial Crash of 2008
Christ. It sounded so interesting, it turned out so bad. Nathan Cassidy's If I Caused the Financial Crash of 2008 desperately wants to be cool, dangerous, wise-cracking – the James Bond of Edinburgh shows. Instead, it's narcissistic, tedious and deeply unfunny.
The backdrop is this: Cassidy was once a banker, and as the title suggests he doesn't just have the inside track on what happened, he was the inside track. And in sharp suit with white shirt unbuttoned, he's brought us here to tell us the truth.
The template for Cassidy's revelation is OJ Simpson's book called If I Did It, a de facto confession of murder, with the word 'if' in front of it. He shows us the book and, to hammer home the point, wears an ill-fitting black glove for the show – recalling the key part of OJ's defence. As it turns out watching this glove flapping around is a welcome distraction from the actual material, like an absurd sidekick drafted in to bring the LOLs.
Cassidy paints a grim picture of life in the bank. His colleagues were unscrupulous, unfriendly, sex-crazed, dishonest, and there was no accountability in the company. At the same time, his marriage was falling apart and he was at the end of his tether. All promising in the set-up, but Cassidy's knowing, sub-noir storytelling style is incredibly offputting, and the jokes he inserts aren't up to much either.
In his rant about ticket-selling sites (owned by the Rothschilds he says, ominously), the gags amount to just macho bluster, and applying the corporate 'smart' objectives (specific, measurable, achievable, relevant, and time-based) to his sex-dungeon colleague's antics is a good example of the over-written material.
A set-piece in which he mimics the Shawshank Redemption, to illustrate how working in the bank was like being in prison, must be funnier in theory than it is in practice. He then uses the office coffee machine and vending machine as springboards for how much he hated working there, but again, it left the room cold. The show isn't lacking in ideas or craft, Cassidy is clearly a smart bloke who knows how to build an hour, it's just all so unappealing.
When he brings us to the part where he quits and takes up comedy full-time, Cassidy makes a big thing about how he finally got round to writing a joke: 'I'm not a fan of the new pound coin, but then again, I hate all change.' That's Ken Cheng's line that won the Dave Funniest Joke of the Fringe last year. I think he assumes we all know this is someone else's joke, because unless my ears need cleaning out, no mention is made of the fact.
The climax of the show is the conversation between Cassidy and the chief executive of the bank about whether to go through with the buyout that went on to cause the crash: what he said. What he didn't say, whether it's true, whether Cassidy even worked at this bank at all. Honestly, my pants drawer has got more mystery than this. And all this smoke and mirrors and rug-pulling seems to be more for his pleasure than ours, as he toys with this fantasy he's built around himself.
Review date: 18 Aug 2018
Reviewed by: Paul Fleckney
Reviewed at: Just The Tonic at The Caves
Recent Reviews
What do you think?