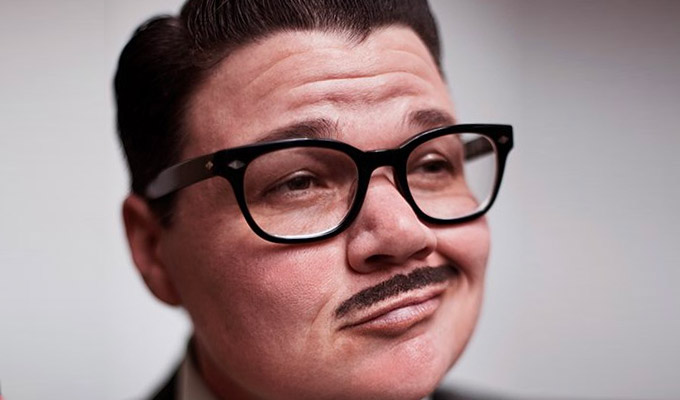 Murray Hill: About To Break
With his cheap tux, frilly shirt and bow tie the size of a decent tablecloth, Murray Hill arrives in Edinburgh from Brooklyn, apparently via the Catskills and a time machine.
This self-styled Mr Showbiz is full of shtick, channeling the spirits of a hundred dead comics to simultaneously flatter and mock his audience, with little sincerity either way.
It's all a tease, the bedrock of an hour of badinage, with only the loosest elements of a show to give him reason to engage with us. Primarily that's through a dance-off to select a semi-willing punter to replace the high-kicking showgirls he insists usually back him for his unexpectedly sincere closing number. The big band that would complete the scene are also mysteriously absent.
We all play along, and he builds a friendly, inclusive atmosphere from nothing. As the perfect host, he takes care to learn - or at least try to learn – the names of every member of his audience. It's the smallest, he says, that he has ever played. For although he's an Edinburgh debutante, he has spent 20 years polishing this act in New York's burlesque, drag and queer cabaret scene.
The lines are blurred as to whether he is a character act or just a heightened stage persona, just like the gender of the performer behind the moustache is also kept vague. Hill – named after an area of Manhattan – is a tribute to the acts of the golden years of entertainment, not a spoof of them. If anyone's being put down, it's only himself, and he's got the ego to handle it.
But audience members are assigned exaggerated personalities, from the twenty-something man he assumes to be drunk or stoned to the middle-aged woman who must be sexual dynamite given her dance moves. He has Al Murray's skill of creating running jokes in the room, as well as total absorption in a stage persona, though their acts are entirely different.
Hill, who could pass for an Oliver Hardy tribute act with his glasses off, is as cheesy, hammy and warm as a croque monsieur. And just as much a guilty pleasure.
Review date: 17 Aug 2018
Reviewed by: Steve Bennett
Reviewed at: Gilded Balloon Teviot
Recent Reviews
What do you think?