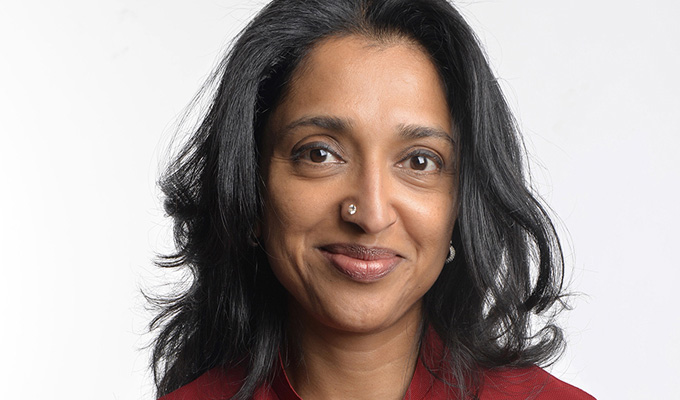 Sindhu Vee: Sandhog
This might be Sindhu Vee's full-length debut, but it has a maturity of style and content. Her delivery is calm, collected and classy as she speaks of her 20-year marriage and the travails of bringing up three children once romance had been replaced by pragmatism.
These are common experiences – in stand-up as in life – and Vee's outlook is universal but with a twist, seeing both marriage and parenthood as a series of battles that must be won, especially over her rigidly rational Danish husband.
She's cynical and manipulative as she, like so many comedians, openly defies conventional advice on how to be a good wife and mother. But it's a relatively mild form of transgressive thinking that appeals to others in the audience in the same boat.
Yet her disparaging commentary is delivered with a warmth, and her descriptions of impolite behaviour told with impeccable manners. So even when you disagree with her – and whatever her protests, it IS disgusting to be leaving used chewing gum around the house – you're still kind of rooting for her.
But Vee builds up an engaging and detailed picture of a long-term marriage with her honest, if biased, commentary, and we do get to feel we know her. She prefers to reel us in gently, which means the pacing is a little slow compared to many acts, but she has the assuredness to hold the room.
That charisma and control would probably allow her the latitude to push into slightly edgier content, if she chose, but she prefers to focus on the guilty secrets of minor domestic conflicts, which means the content can seem relatively unambitious.
Interestingly, some of the peaks come when she moves outside the strict focus on the four walls of the family home – such as a reenactment of her mother calling from Delhi with her latest sensationalist fake news bulletin.
Maybe her focus will widen now she has this accomplished, if relatively safe, debut under her belt.
Review date: 19 Aug 2018
Reviewed by: Steve Bennett
Reviewed at: Pleasance Courtyard
Recent Reviews
What do you think?