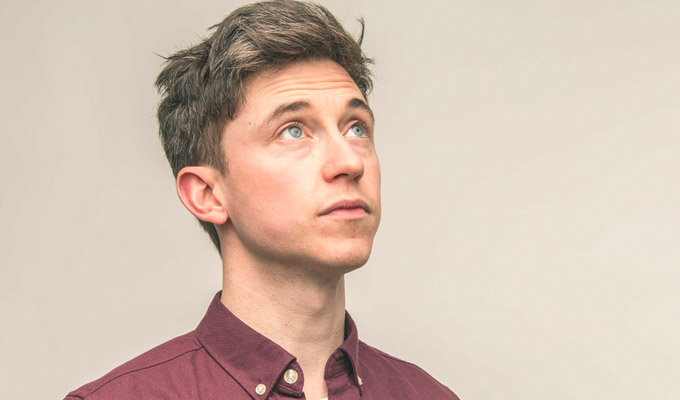 Jake Lambert: Little Lost Lad
Well, this show feels like the start of something. Jake Lambert is the kind of comic who will appeal to 8-80-year-olds – likeable, smiley, polite, clean, everyone's cup of tea. And ergo not everyone's cup of tea.
But while this may not be the most edgy comedy around, Little Lost Lad is smart and thoughtful, more so than most comics this mainstream. All that adds up to the feeling that Lambert could accelerate beyond the Fringe much like Josh Widdicombe, who he occasionally reminds me of.
What stands out is the fact that he can nail both joke-writing and storytelling, and the two combine pretty seamlessly and with unrelenting energy, all of which makes for a meaty end product. A lot of his material is homely stuff – his cat that only has one eye, the joys of living alone (in a bungalow), making up nonsense to his nieces and nephews. On a few occasions, the ends don't quite justify the means, such as the practical joke he and a friend played on a housemate who was trying to get laid.
But mostly the stories hit home, like the 'friendly' chat he has with the service station woman and the death of poor Pepsi the rabbit. Along the way, there are some lovely moments like his ranking of which TV channels you should watch the news on, and his girlfriend's milk-buying faux pas.
The biggest laugh for me was his observation about the 'one in, one out' phrase so beloved of surly bouncers, which shows that Lambert is capable of an original observation and extracting the maximum comedy value out of it.
Lambert introduces some more serious themes as the show goes on, without it undermining the comedy. The way he talks about his emotional repression, and how he is trying to prepare his nieces and nephews for the big bad world, it seems he cares deeply about these subjects, but he never gets earnest or mawkish. Having said that he does tip over into 'the funny things children say', which we'll put down to a momentary blip.
The sort of territory Lambert operates in is similar to Russell Howard, but one key difference is that I believe what Lambert says about his family's quirks, the stories he's accumulated over the years. Some of his stories sound like tall tales to begin with – in fact Lambert tells us how incredulous people are about the things he says – but after a while you realise that it really is real-life, and that gives the show a strong underpinning.
It's an impressive debut from Lambert, and one that suggests there is plenty more in the tank.
Review date: 7 Aug 2018
Reviewed by: Paul Fleckney
Reviewed at: Pleasance Courtyard
Recent Reviews
What do you think?