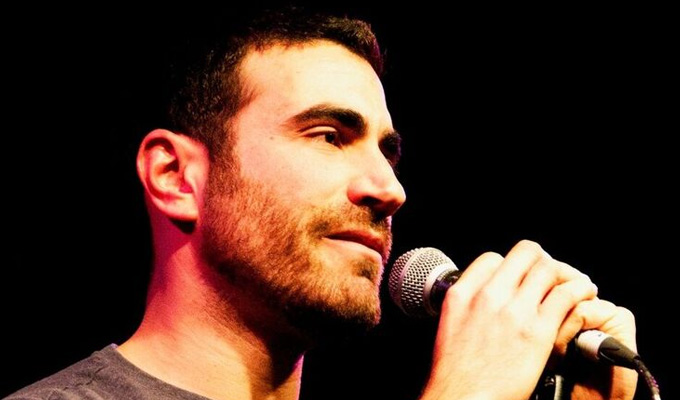 Brett Goldstein: What Is Love Baby Don't Hurt Me
Yep, this another break-up show, but a notable addition to the genre because of the results of the soul-searching Brett Goldstein underwent following the split, as he strives towards an emotional maturity.
There was an intense chemistry from the moment he and his ex set eyes on each other at a party, and their relationship burned with passion, but rarely in a healthy way. Goldstein's explicit about their attraction – her augmented breasts seems to play a big part - as well as her sexual sense of adventure that outstripped his own (the phrase 'suitcase full of weaponry' makes an appearance in this context) and his jealousy of the A-listers she hung out with, since she was a Hollywood high-flyer.
What Is Love Baby Don't Hurt Me is an honest show about sex – and not the briefly famous 1990s Europop star Hardaway, as Goldstein feels duty-bound to point out. That means stories about trips to the STI clinic, porn, and a brief mention of the strip club his father bought in Spain, previously the subject of a separate Goldstein show, as well as his central relationship.
Such topics inevitably mean some of the comedy feels like he's getting cheapish laughs merely taking sexual content out into the open, but he mitigates against possibly immature gags though his mature and honest – if belated – appraisal of his own motives and feelings. Primarily, he considers whether he should try to live his life by the old improv mantra of 'yes, and…', to go with the flow rather than setting up roadblocks for himself.
Personal storytelling is his very much his style, so much so that his one bit of observational comedy about laptops becomes a heightened parody of a Michael McIntyre-style bit. He has the sort of easy confidence that means he can take to the stage topless and not seem self-conscious, while drawing the audience in with a quieter charisma as the story moves on.
His conclusion is that relationships should not be a series of bright-burning fireworks, but more a slow, growing smoulder that builds to a warmer and warmer contentment. And that's pretty much the path of the show, too, as we come to be charmed by a slick conversationalist.
Review date: 17 Aug 2018
Reviewed by: Steve Bennett
Reviewed at: Pleasance Courtyard
Recent Reviews
What do you think?