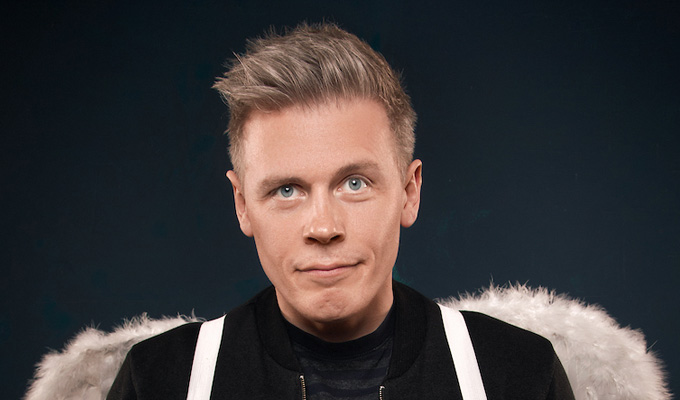 Christian Finnegan: My Goodness
He's got a couple of US specials under his belt, has had his own series on America's A&E network and appeared in a notable sketch in Chappelle's Show… so it's probably safe to assume frank-talking Christian Finnegan is used to playing better, and better-attended, rooms than this.
He constantly refers to having an audience that fills just a couple of rows at his first Fringe, but if he didn't mention it, you wouldn't notice, given how unfazed he comes across about the situation.
Here's here to see if he measures up to being an acceptable enough human being as judged by qualities such as honesty, righteousness and generosity. Certainly compared to Donald Trump's piece-of-shit character, which he feels duty-bound to mention, he is, but what about everyone else?
In this entertaining, interactive set he asks random audience members: 'What would you rate yourself?' – chastising a woman for suggesting she is an A+ – equivalent to Gandhi by his scale. He is easily able to riff with the answers he gets as he works through all his categories.
Conscious of 2018 being the 'woke' year he labels himself as 'Woke but groggy', struggling to adhere to all the politically correct rules. He prevents himself from calling a woman a 'bitch' but called her an 'asshole', a gender-neutral insult.
Finnegan touches lightly on a number of heavy subjects such as racism, homophobia and suicide, all smoothly delivered with his personal outlook speaking about experiences, such as abandoning his Catholic beliefs, though he is aware that being an atheist is not such a big deal in the UK as back at home. He makes constant efforts to connect with the British audience, especially pandering to our love of wordplay.
The man is genuinely funny: dynamically expressive in his delivery with a highly charming sense of fun, never taking himself too seriously. His commitment to silliness makes him a joy to watch,
The gear changes when Finnegan goes on to his final category: kinship. He shows us photos of his family, which saddens the mood when he tells us their story, but there should be no guilt in laughing at it, that's Finnegan's clear intention.
His intelligent commentary on his life is closed with ambiguous questions to the crowd – something to leave you on a thought-provoking high.
Review date: 13 Aug 2018
Reviewed by: Sophie Cartman
Reviewed at: Gilded Balloon Teviot
Recent Reviews
What do you think?