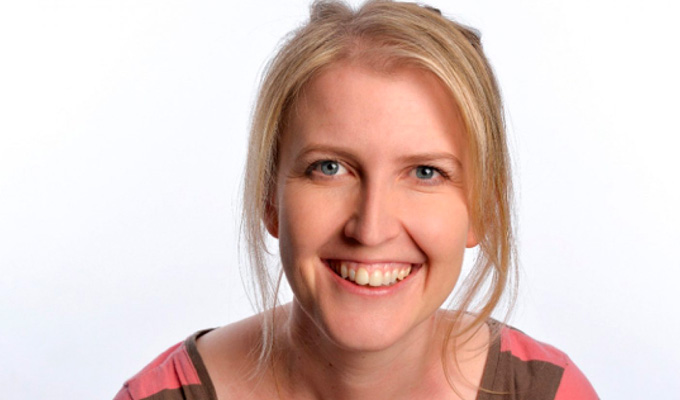 Heidi Regan: Heidi vs Sharks
'I've been told I'm a slow burner,' deadpan Australian comedian Heidi Regan tells the audience. And yes, her dry, off-kilter humour definitely takes some attuning to. Even her ice-breaker designed to set out her stall is a bit confusing, given that her claim to be a harrowing burlesque performer is more than credible on the Fringe.
Thankfully, though, the 2017 BBC New Comedy Award champ has chosen a very accessible way to frame her debut hour – her love of terrible shark B-movies.
She's watched scores of the buggers with her similarly obsessive pals, Joan and Greg, seeking out precious moments of true awfulness. Comics talking about their genuine preoccupations tend to make for the most fascinating shows, buoyed by the performer's passion, and the more obscure the topic better. That's true here – the unintentionally hilarious clips are all highlights, while Regan tries to explain the evolution of this niche genre using deliberately shonky PowerPoint slides.
Modern examples of the genre don't interest her so much – the likes of the Sharknado franchise and Sharktopus (exactly the chimera you think it is) became conscious of their preposterous nature and exploited it as ridiculously as possible, so the joke isn't funny any more. Perhaps that's why she prefers to appear unselfaware when it comes to delivering her own punchlines, with an understated style that only subtly acknowledges a joke has been delivered.
There's a running gag that Reagan wanted to use her platform to talk about investor-state dispute settlements, the controversial clause in many international trade agreements that allows corporations to sue governments over changes in law they consider unfair. The fear is that if the UK signs such a deal, any by-stealth privatisation of the NHS would be impossible to reverse.
Yes, it is a big, dry subject that has nothing to do with sharks, and while the joke is Regan's wilfully intransigent attempt to crowbar her political hobbyhorse into the narrative, despite massive audience resistance, explaining it all proves a massive thief of momentum and laughs.
Regan also uses her show to tick off a few 'this is me' introductions, especially concerns her coming out. Dad was very accepting, not good drama for an Edinburgh show – although his advocacy for marriage equality down under does produce a wonderfully embarrassing social media post.
By this time we've come attuned to Regan's charming quirks and underplayed delivery, and brought into her joy for shark potboilers – if not her conviction about how they tie into the global financial system. The introductions are over with, and now, like a shark, her comedy career will only keep moving forward.
Review date: 22 Aug 2018
Reviewed by: Steve Bennett
Recent Reviews
What do you think?